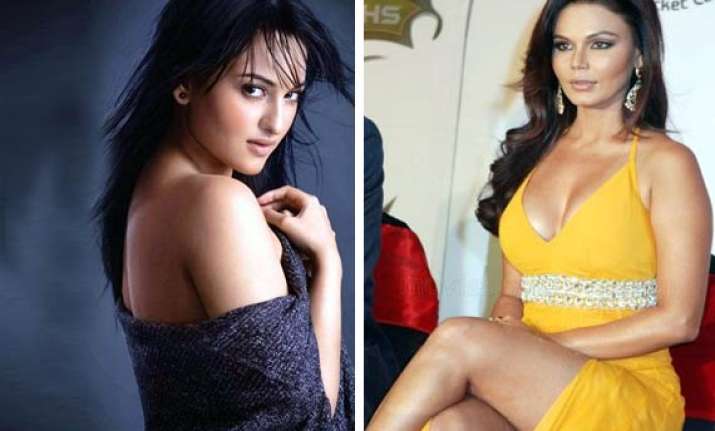 Dabangg actress Sonakshi Sinha is reportedly upset with Rakhi Sawant because she wanted to suggest a workout that will make her lose weight.

Over the last couple of months, there have been a lot of talk about Sonakshi gaining weight and how this has started affecting her movie schedules as reportedly a filmmaker has delayed a project giving her time to lose weight.

"Sona is very upset with Rakhi's comments. She has been receiving a lot of flak for her weight and she is not liking it at all. She is livid with Rakhi for dragging her name to get more publicity," says a source.

Apparently Rakhi just decided to take off on Sonakshi even without scribes asking for a response on Sonakshi.

"Rakhi spoke about her because everybody was talking about Sonakshi. She was recently photographed at Salman's party where it was evident that she has put on a few kilos. But Rakhi admitted later on that she should not have dragged Sonakshi into this unnecessarily," a source connected with Rakhi's reality show said.

Sonakshi apparently has decided not to react to what she considers very "cheap methods" to grab limelight.

"Sonakshi won't react to someone like Rakhi but she is very upset with the way Rakhi maligned her. May be they would never come face to face ever because Sonakshi will never speak to her ever in her life," the source says.