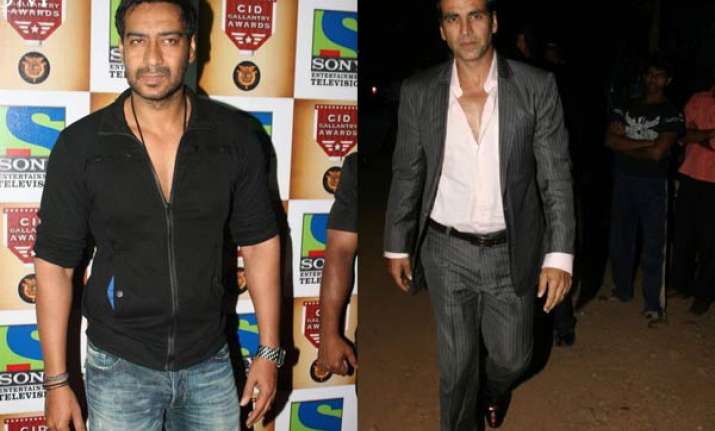 Flush with the success of his film Singham, Ajay Devgn has announced his next home production named Son of Sardar, but the problem is: Akshay Kumar has already the title registered under his banner. 

The film, SOS-Son of Sardar, is to star Devgn and Sonakshi Sinha in the lead and will be co-produced by N.R Pachisia. The title of the film, though, is causing quite a stir, says a media report. 

Akshay Kumar is all set to make a film with the same title. He has, in fact, already registered the titled under his banner, Hari Om Entertainment. The script is ready and Akshay will be launching the film soon.

A source said, "Akshay Kumar hit the jackpot with the huge hit, Singh Is Kinng, where he played a sardar. Since then, Akshay was keen on enacting the role of a sardar again. His character worked well with the audience so he is planning Singh is Kinng 2, as well. In the meantime, he worked on another subject and titled it Son of Sardar.

"The script is ready and Akshay is in the process of finalising the rest of the details. Akshay would have gladly given the title to Ajay or Pachisia had he not already finalised the script. Since the title is apt for his film he does not want to part with it."

N.R. Pachisia said, "I am not aware of this conflict. I'll have to check it out. But I don't want to hurt Akshay's sentiments as we are all part of the same industry and we are all family."