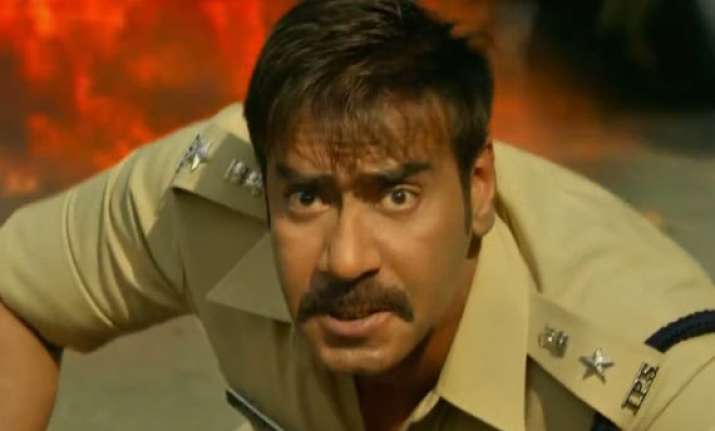 New Delhi: Singham Returns is having a good hold at box office in its second weekend and within nine days of its release the flick has collected Rs 134.49 cr worldwide.
The Ajay Devgn and Kareena Kapoor starrer within the domestic market has collected Rs 3.38 cr and Rs 4.93 cr respectively on its second Friday and Saturday taking the nine days total to Rs 120.98 cr nett while the overseas collection accounts for Rs 13.51 cr nett within nine days of its release.
UAE & GCC continues to be the biggest contributor at overseas with Rs 4.97 cr collection while USA & Canada jointly have earned Rs 4.26 cr.
In UK, the flick has garnered Rs 2.77 cr nett and in other countries namely Australia, New Zealand and Malaysia, the flick has managed Rs 1.23 cr, Rs 0.24 cr and Rs 0.24 cr respectively.
On the other hand, among all other fresh releases this Friday, Rani Mukerji's 'Mardaani' is going strong at box office. The strong word of mouth showed an upward growth in its collection on Saturday (Rs 4.75 cr) after a slow start on Friday where it collected Rs 3.46 cr nett. The flick within two days of its release collected Rs 8.21 cr nett in India.
Directed by Pradeep Sarkar, the film, like earlier this year's release 'Queen', could turn into a slow hit considering its women-centric genre which has got a thumps up from critics.
Here is the nine-day breakup of Singham Returns in India-
Fri 32.09 cr, Sat 21.05 cr, Sun 24.55 cr, Mon 14.78 cr, Tue 8.21 cr, Wed 6.44 cr, Thu 5.47 cr, Week 2 Fri 3.38 cr, Sat 4.93 cr. Total: Rs 120.98 cr