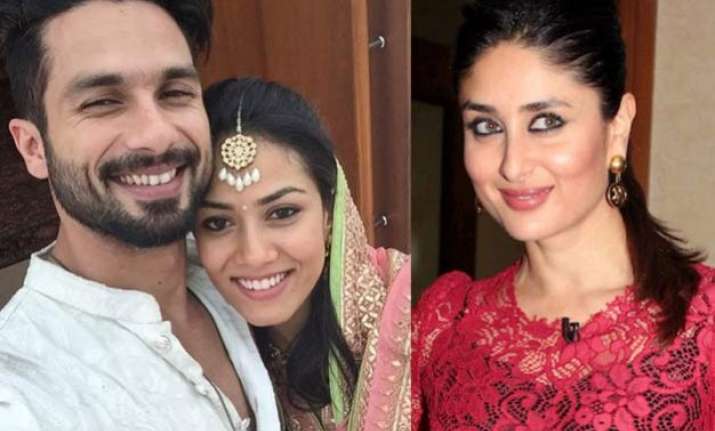 New Delhi: Bollywood heart throb Shahid Kapoor who got married to Delhi girl Mira Rajput in July this year, revealed the reason why he chose a normal girl and not a celebrity for being his life partner.
Shahid, who has the history of dating many B-town celebrities namely Kareena Kapoor, Priyanka Chopra, Vidya Balan, ended up marrying a girl-next door – Mira Rajput, whom he met in a satang program.
His decision came as a shocker to the bollywood industry and media who were expecting a Bollywood actress or at least a famous person as Shahid's would be.  
Talking to a leading daily, Shahid said that he loves his 'normal life' with wife Mira, who is away from the limelight of glamour world.
"I used to tell myself, "I have been in relationships with celebrities, but maybe, it might be interesting to be with someone who isn't a celebrity." And one year later, I got married to someone who is a normal girl (laughs).
I love the fact that I go back home to a normal person, who talks about normal things; and who sometimes tells me, "I'm not interested in what's happening in your industry. Let's discuss what we are doing for lunch tomorrow or where are we going." It's great and very healthy," he said.
Furthermore, Shahid also talked about his post-marriage life and how it has transformed him into a responsible person.
"I am in a very happy space. It's a new beginning. Everything changes after marriage. You become a man. You feel responsible. From now on, I will probably take more sensible decisions. I won't be rash. The sense of freedom has now turned into a sense of responsibility. Even when I am deciding on a film, I feel, 'If it goes wrong, it won't just impact me; it will affect my home and my wife as well'," said Shahid.
Well! Shahid's response definitely contains the magical appeal to sent Mira Rajput on cloud nine.
She is such a lucky girl to have a husband like Shahid Kapoor who preferred her over celebrities. Moreover, Shahid's concern for his wife and the magical bond between the two is the cutest thing about their relationship.