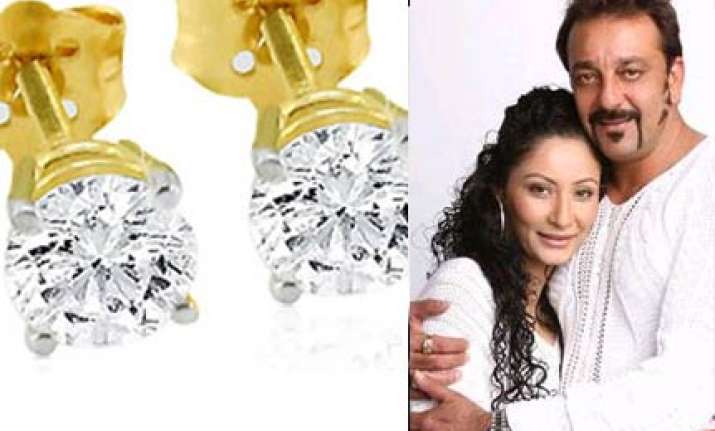 Bollywood star Sanjay Dutt got the biggest solitaire for pregnant Maanayata, says a media report. When Sanjay Dutt learned that wife Maanayata was pregnant after three years of marriage, he was thrilled. He decided to buy her a gift to mark the day.
Says a source close to Dutt, "When the doctor confirmed Maana's pregnancy and she informed Sanju, he was so happy, he wanted to lay the whole world at her feet."
The source adds, "Without telling her, he called up her favourite jeweller in Bandra and ordered the biggest pair of diamond earrings they had. When they were ready, he personally picked them up, came home and gifted the five-karat- each solitaire earring pair to his biwi." It was his way of thanking her for making him a daddy again. His daughter Trishala (from former wife, Richa Sharma) is 22 years old now.
Sanju's gift is estimated to be well over one crore. he is ecstatic about becoming a father and he feels no gift is enough to match the precious gift that Maana has given him -- their babies (the couple is reported to be having twins).
Ø      When Dutt got married a couple of years ago, he presented Maana with a solitaire ring worth almost 40 lakh.
Ø      After the Dutt wedding, Anil Kapoor and his wife Sunita gifted Maana a diamond set.
Ø      When Maana had kept her first karva chauth for Dutt for him after her marriage he had presented her a diamond set
And in Hollywood:
Ø      Two weeks before giving birth, Jennifer Lopez commissioned a special gift for her husband Marc Antony -- a book of photos of herself.
Ø      Gwen Stefani while expecting her third child with rocker husband Gavin Rossdale got a diamond bracelet as a gift.
Ø      Brad Pitt gifted Angelina Jolie a serpent shaped silver ring encrusted in a huge solitaire when she was pregnant with Shiloh.