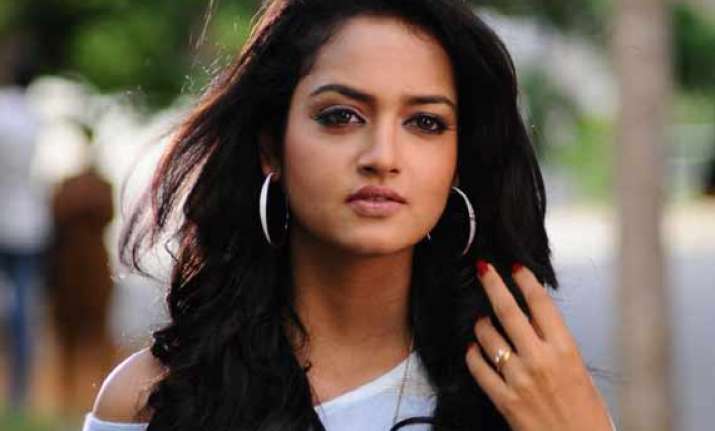 Chennai: Shanvi Srivastav, who will be seen in an important role in Ram Gopal Varma's upcoming Telugu political drama "Reddy Garu Poyaru", says it was her dream to work with the ace filmmaker.
"To work with him is a dream come true for any actor, not just for me. He chose me in the very first meeting and I was too nervous to even ask him why. I play a very serious role and all the chirpiness that you find in my characters usually will be absent here," Shanvi told IANS.
"On the first day we shot a fight sequence. Since I've only done serious roles, he expected me to at least take a few takes before finalizing the shot. But I gave him the expression he wanted right away and he was impressed. The entire team was surprised because other actors usually take a day or two to perfect a shot," she added.
"Reddy Garu Poyaru", also featuring Manchu Mohan Babu and Manchu Vishnu in the lead, is loosely based on the events soon after the death of former Andhra Pradesh chief minister Y.S. Rajasekhara Reddy.
Shooting with RGV is a different experience altogether, says Shanvi, who has also worked on films such as "Lovely" and "Adda".
"He's an innovator and working with him will always be different. He used only three cameras to shoot and most of the time you're not aware of the camera while shooting. It can capture you from the most unexpected angle, and, therefore, it's important to be immersed in one's role," she said.
"He was using sync sound technology. This was also something new for me and I had to quickly adapt to it. I feel you don't act in his films, you just become the character. Since you are not aware of the camera's presence on the set, every inch of your body automatically starts to act, from head to toe," said Shanvi.
Shanvi plays a brief role, but she says there's so much to learn.
"I have a brief role but seeing Ramu sir at work gives you the opportunity to learn. The experience has been enlightening so far and I'm looking forward to few more days of shooting. I have dubbed for my character while filming but I don't know if they will retain my voice," said Shanvi, who is awaiting the release of Telugu film "Pyaar Me Padipoyane".
She is also likely to sign two Tamil projects soon.