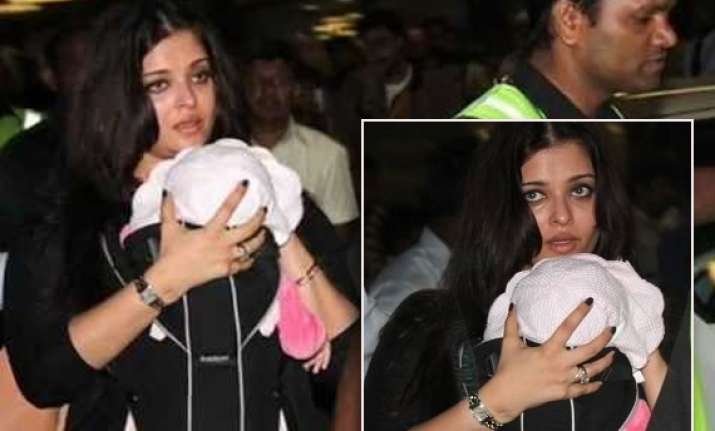 London:
Bollywood actress
Aishwarya Rai Bachchan
, who gave birth to her first child daughter Aaradhya last November, says motherhood is her top priority and she has no immediate plans to return to the celluloid world.
Making one of her rare appearances post pregnancy at the 25th anniversary celebration of Britain's MP of Indian origin Keith Vaz, Aishwarya said, "Being a mum, I love it. It is like a bliss."
The 38-year-old former beauty queen was accompanied by actor husband
Abhishek Bachchan
to the gala dinner at the Radisson Edwardian Heathrow Hotel here last night.
Asked whether he shared in Aishwarya's motherhood responsibilities, Abhishek said, "I am guilty. I don't spend enough time with the baby to change her nappies. She does all the hardwork."
Aishwarya, who was last seen on the big screen in "Guzaarish", said she is not thinking of returning to work just as yet. "We will see as things go. Right now, it is blissful (to be with the baby)."
Asked what were her dream roles, the actress said, "I have never thought about dream roles." Answering the same question, Abhishek said, "We live our dreams on a daily basis."
Asked which her greatest day was, Aishwarya said, "The day I married Abhishek. It was a great day." Vaz said that Amitabh Bachchan could not attend the function as per his doctor's advice. Jaya Bachchan came to London along with Abhishek and Aishwarya, but she did not attend the dinner as she was taking care of Aaradhya.