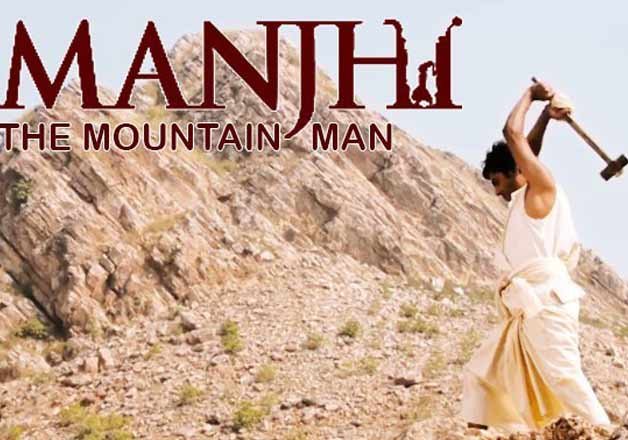 'Manjhi-The Mountain Man' is the biopic of Dashrath Manjhi, a real life hero who moved a mountain in the real sense with his pure courage and unflinching conviction.
The film follows the life of Dashrath Manjhi (Nawazuddin Siddique) , who hailed from the Musahar (Rat-eaters) caste, regarded the lowest of the low in Bihar's caste-ridden society. Dashrath is madly in love with Phaguniya (Radhika Apte) and both lead a happy life despite facing constant social humiliation (as they were used to it) .  
However, their blossoming love story comes to an abrupt end after Phaguniya, on her way to deliver food to Dashrath, trips and falls several feet down from the mountain, severely injuring herself. Unable to make the journey on time to the nearest hospital in Wazirganj, she dies midway.  A heart-broken but resolute Dashrath roars, "Jab tak todenge nahin, tab tak chodenge nahin. "  He vows no other person will die due to lack of access to the nearest medical facility. What follows next is the tale of a man who makes a mountain bow down to his unflinching will.
The film touches upon various issues plaguing Indian society including caste oppression, economic disparity, rampant corruption and the Naxalite movement.
The film also takes swipe at the infamous emergency era and Indira Gandhi's Garibi Hatao slogan. There is one scene, where she is addressing the poor and suddenly the stage comes crashing down. At lightning speed, Manjhi and other villagers come to the rescue and hold the crumbling structure on their shoulders while she continues her speech. It was one of the most ironic moments of the film.
Besides, it has an impressive background score that gels well with the emotional pitch of the film. The first half of the film is both taut and engaging but the second half lacks the same vigour. Director Ketan Mehta's film is marred by repetition after the interval as the same scene keeps popping up time and again. It also loses focus with unnecessary dream sequences being thrust in and subplots that only dilute the narrative. A biopic should also have depicted Manjhi's relation with his children which Mehta chose not to tread on.  
Cinematographer Rajeev Jain's camera captures the giant mountain at different angles giving a real feel to the lead's love- hate affair with it.
Siddiqui is in yet another tour de force performance; he carries the film on his able shoulders. He has gone to extremes to make his character believable and he succeeds in achieving it. Perhaps Radhika Apte's depiction of a village woman was not convincing enough but it was evident she has worked hard for her role. Talents like Tigmanshu Dhulia (local landlord) and Prashant Narayan (Naxalite) have little to offer in the film.
A special mention for Pankaj Tripathi who plays a corrupt landlord in the film. Tripathi has quite mastered the art of portraying negative characters; his role is reminiscent of his outing as Sultan in Gangs of Wasseypur.
'Manjhi-The Mountain Man' is a good film that remains a few notches away from becoming brilliant. But this film is highly recommended for it is the celebration of a brave heart's life that saw glory only after his death.