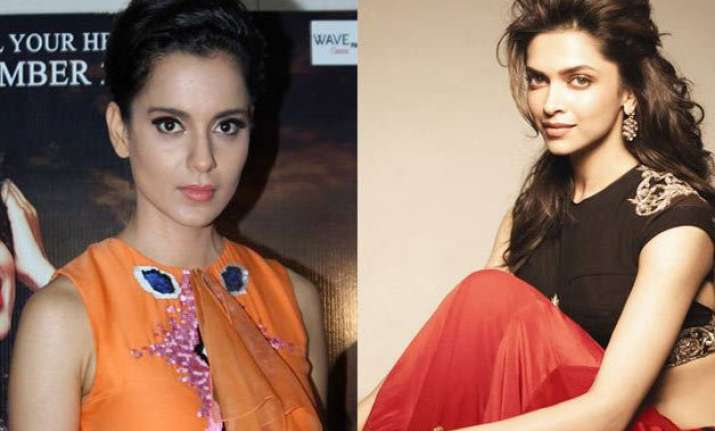 New Delhi: Ever since the news of Ranbir Kapoor's breakup with Deepika Padukone has been out, this is what the entire B-town is talking about.
But apart from this splitsville, there's something else that is catching the eyeballs these days.
We are talking about the ongoing cold war between Kangana Ranaut and Deepika Padukone.
It's been a while that the divas are not in the best of terms.
Recently, the 'Bajirao Mastani' actress talked about this ongoing cold war saying that it is just irrelevant and one-sided. She stated, "It's only one-sided. It's irrelevant.It's really irrelevant. I have way too much going on in my life so what people say, what people do, what people think is really irrelevant."
But Kangana Ranaut who is quite popular for her blatant statements doesn't agree with Deepika.
Recently, when Kangana was quizzed about Deepika's statement, the 'Queen' actress stated, "Really!! She said that? Then why she makes these desperate calls to paint a parallel reality and sends never ending cunning texts to invite me for her trials and parties? Well, she seems rather invested in the irrelevant stuff."
Well that was indeed a sharp reply to Deepika.
Reportedly, the entire incident began after Deepika Padukone dedicated her award to Kangana Ranaut for her performance in 'Tanu Weds Manu Returns'. While Kangana did not like this as she was reported saying that Deepika should have called her personally if she liked her work.
Their cold war was quite evident with Kangana's open reactions about Deepika not being supportive enough to her.
While Deepika has reportedly tried sorting things out by personally calling up Kangana, the later's constant digging on Deepika didn't stop.
Though, Deepika has stated that this war of words is just one-sided, Kangana Ranaut's statement has an entirely different story to narrate. Let's see what Deepika Padukone has to say about this.