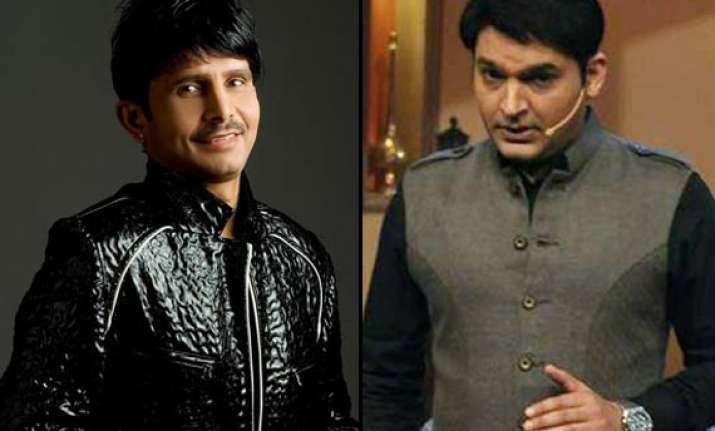 New Delhi: Kamaal R Khan a.k.a KRK is in no hurry to shed his infamous image barely caring about the nil of the consequences that he could face for his blatant, creepy and shameless attitude. Judging what goes on his mind is difficult and to even guess what next would pop out of his mouth is equally unpredictable.
Days after his infamous brawl with comedian Kapil Sharma went in vein, KRK has once again tossed up the controversy by teasing and provoking the 'Comedy Nights With Kapil' host on the social networking platform.
"KapilSharmaK9 ki Aisi bolti band kardi humne ki abb ye zindagi main kisi se Bhi pangaa lega but kisi khan se kabhi nahi lega", tweeted Kamaal R Khan.
We still wonder what pleasure does he gets from his pity tactics on twitter but it surely must have irked Kapil once again, who is a firm believer in letting bygones be bygones and moving on with his life.
KRK has fled from the city to Dubai citing 'heavy rain making life hell' as a reason but hasn't left Kapil's back as yet for now. Kamaal even offered him a role in his 'Deshdrohi' sequel as a feels that working in his flick will anoint him as a super star comedian.
"Bhai @KapilSharmaK9 I offer you a role of comedian in #Deshdrohi2 n believe me you will become a super star comedian after release of film", KRK wrote.
But we are afraid what Kapil must be going through with Khan's last tweet which says, "Bhai @KapilSharmaK9 Ajaz Khan is saying ki ye Mumbai hai Punjab nahi. Woh tere ko uthaa lega n fir thodega. Reply de bhai punjabi khoon."
Well, looks like KRK is desperate to invite trouble for himself as Kapil is among those who couldn't stay back with such affronting remarks over him and we have seen it in his earlier heated argument with Kamaal on twitter.