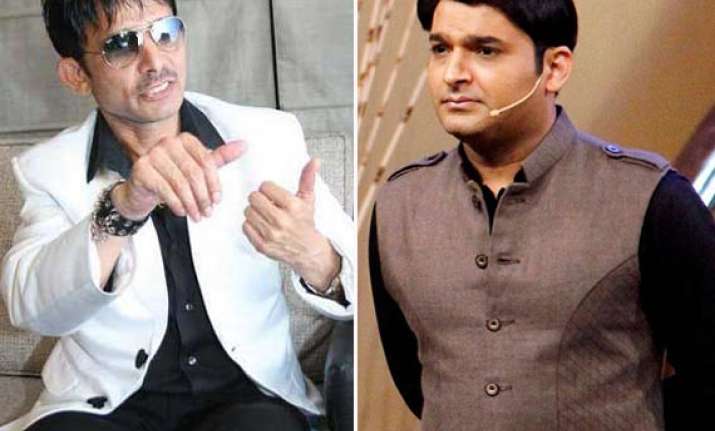 New Delhi: Kamaal R Khan, who has no control over his big mouth, is at it again and this time it's comedy king Kapil Sharma under his radar.
KRK took on his favourite platform to slam the 'Comedy Nights With Kapil' host using the most degraded curse words against him.
The initial cause of the debate is still unknown but looks like KRK's negative thought process about 'Punjabis' has irked Kapil Sharma who himself belongs to the same region.
Sharma, who will also be seen in YRF's next, challenged KRK to show some guts and call him so that he teaches how to deal with a Punjabi guy.
KRK mocked his comment as he said, "Ppl pls don't mind his tweet coz he always become tiger after drinking. Nasha Utarne Ke Baad Fir Chuhaa Ban Jaata Hai."
If you don't find anything objectionable over Khan's above response, here is his another post that will to prove you wrong.
Kamaal was unleashed in his next tweet with the most offensive and filthy language like ch*** and ga***.
"My God a person @KapilSharmaK9 who Walks like a girl, who talks like a c***** n who laughs like a C***** will slap me. Main Darr Gaya bhai.", he wrote.
The next post KRK says, "Oye c*** @KapilSharmaK9  tere Jaise 100 naukar hai mere paas. Lukkhe Teri g*** main ghus jayega Tera thappad. Aukat dekhle Pahle apni."
KRK who has played a short role in the recent hit 'Ek Villain', has targeted many B'wood biggies like Shah Rukh Khan, Salman Khan, Alia Bhatt among others.
But his latest episode seems to be getting more violent considering the fireworks from both sides. Lets see where it goes!