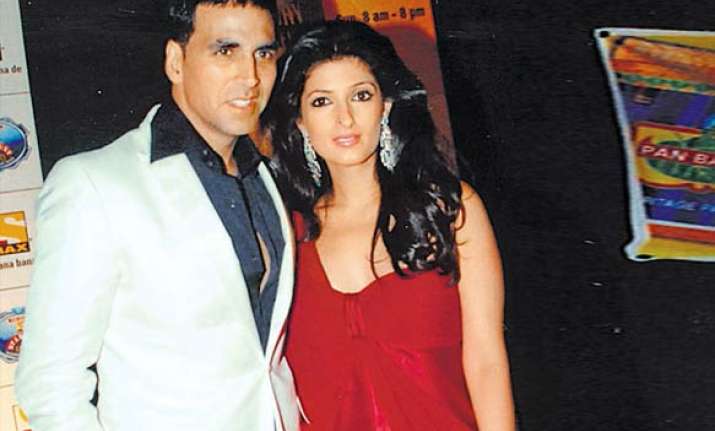 Mumbai, Feb 14: Bollywood star Akshay Kumar has said, he and his wife Twinkle celebrate Valentine's Day alsmot every week, says a media report.
Says Akshay, "Days like Valentine's and our wedding anniversary definitely have a special significance. But honestly speaking my wife and I celebrate Valentine's every week."
Akshay  explains that it is 10 years since they married, but Twinke and he do not take each other for granted.
Says he, "When planning a vacation I bring the plastic globe in our home and rotate it in front of Tina (Twinkle). She has to just put her finger on a place and we fly there for our next holiday with our son Aarav.
"Twinkle knows her every wish is my command. Whatever she desires, be it diamonds, a car or a villa; she has to ask and it will be hers.
" But the beauty of the whole thing is, that in the decade gone by, I have realised that what my wife really craves for, is my time. She has made me promise that I will always spend quality time with her and Aarav."
So the Kumars have a set routine. Every weekend is a do-not-disturb affair. "On Saturdays we usually dine with Aarav. However, on Sundays it is just the two of us who go out for a romantic meal and a drive," he smiles.
Akshay Kumar is flight-hopping from Dubai to Patiala gathering critical acclaim for his sensitive performance in Nikhil Advani's Patiala House. Despite such a hectic itinerary, the actor has made it a point to return home to wife Twinkle Khanna on Valentine's Day.
This handsome couple has spent a decade in marital bliss and Valentine's is yet another occasion for them to seek each other out.