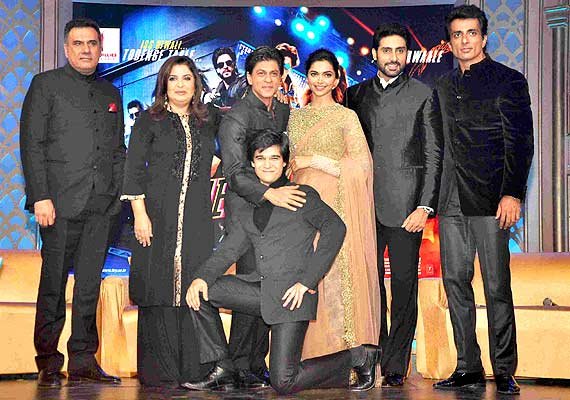 Happy New Year came and emerged as a terrific winner of myriads of hearts all around the globe.
This Farah Khan directorial has not only broken all the records but garnered tons of accolades for its untamed yet beautiful story of 'Indiawaale.' Who knew that we would eventually have a different synonym for 'Team India' other than our very own Team India of cricket?
While the entire cast and crew seemed confident about the film since its inception, one thing that's surely played the part was its tremendously done promotion.
I am unable to recollect a film that went this ahead with its promotion that it even had its own dance reality show (Dil se Naache Indiawaale) running on a main stream entertainment channel for a few days. Keep the presence of stars on various television shows aside; 'Indiawaale' never left any stone unturned during their promo-game.
And while I say 'promotion,' it seemed more of a genuine display of unstaged chemistry between the entire team of Happy New Year.
Both, the way the entire team used to make fun of Farah's direction or Sonu's ultra-toned physique never appeared fake and that's something that eventually made the viewer to strike at the cinema hall the very first day of the film's release.
Happy New Year didn't only carve new parameters of box office records but also rubbed its way off to define novelty in a Bollywood's film promotion too. Otherwise, how often do you see stars like Shah Rukh Khan, Deepika Padukone visiting a place like Kanpur that too post release of their film that's already enjoying a giant success?
The speculations were rife that King Khaan is definitely going to dial big with the promotion of Happy New Year but what has ultimately come out in the name of promotion is a few day celebratory mood created by the team that started much before Diwali festivities and is still on.
The entire aura around Happy New Year film is such that we are more likely to recollect 'Team India' and not the individual stars whenever we'll witness SRK, Deepika, Boman, Sonu, Abhishek and Vivaan in future.
Happy New Year today stands as a film in Bollywood that might not have probably impressed most of us with its storyline and the screenplay, but has undoubtedly dug deep with the innocent entertainment it has given us pre and post its release.
And while the success of the film has seen so far is terribly huge, I say it is well deserved by a team like HNY that still seems to be taking no-off from their fun stroll throughout the nation.
Thus, even if HNY doesn't win the coveted cinematic awards this year, nothing would surpass its popularity engraved in the audience's wits deeply. Summing it formally, I would add that a film like Happy New Year sets a distinct category in Bollywood where films are made just to spill a few sheer moments of delight without thinking on making money or attracting critical acclamation.
No utter shock tomorrow would pinch me if I encounter HNY being taking as a case study in a curriculum following a great promotional cum happiness tour all over the world!