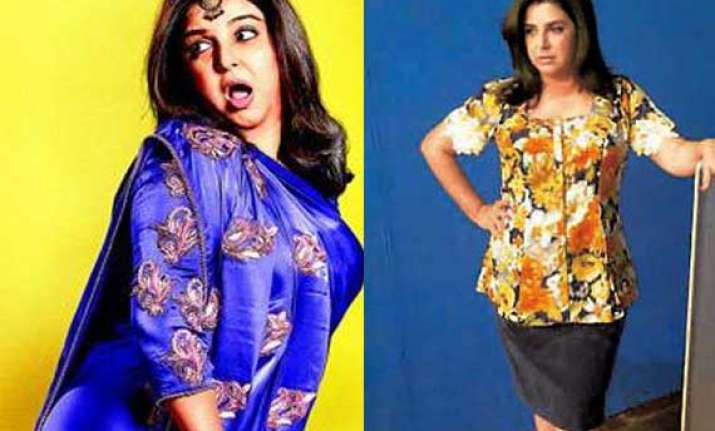 Mumbai : Bollywood filmmaker-turned actress Farah Khan has said she was surprised on being offered the lead role in Bela Sehgal's 'Shirin Farhad ki to nikal padi' as she thought 40-plus women were not in demand. 
"I was never waiting to act in movies. I was completely shocked that at this age, someone wanted me to act," Farah told reporters at the unveiling of the first look of the film here last night.
"It was a very bold step on Sanjay (Bhansali) and Bela's part to make a rom-com with me. Nobody wants a 40-plus actress for a movie," she said.
The ace choreographer said acting was not a conscious decision for her and she never craved to be an actress.  "It was not a conscious decision. In fact, when they told me about the film, I thought Bela and Sanjay wanted me to choreograph a song. But then they gave me the script and asked me to play the heroine...I almost fainted.  
"For almost a week I thought they were joking, pulling my leg. When they told me it had Boman, half the job was done," Farah "It is not just comedy, at the end of the climax you will be crying. There are lot of emotions also," Farah said.  
Both Farah and Boman play Parsi characters in the movie. "I met a lot of Parsis. I am also half-Parsi. I also spent a lot of time to see how they dress up and walk. I did not want to play a caricature so I decided to behave naturally,  like the camera is not there.
"All Parsi ladies are very tip-top right from the shoes, to hair, to clothes. Shirin is also like that. We had a Parsi deseigner," she said.
The first look of the film has garnered appreciation from all quarters, but Farah was not sure about her performance.
"I was very scared of my own reaction because I was over critical of the movie and myself. When I saw the film, it was like a lot of weight was off me. Boman was very sweet, it was he, Sanjay and Bela who throughout the movie told me that I have done good work...but I did not believe them," she said.
"Shirish (Shirish Kunder, her husband) has told me that he will not see the trailer, because he feels he won't be able to handle it. But I think he must have seen it. I am getting good reaction," she added.
Meanwhile, Boman said, "Farah and I had a wonderful time while shooting. I do not think I would have got a better actress to work with in my first film as a hero.
"The movie also stars Farah's aunt and yesteryear's actress Daisy Irani in a pivotal role.