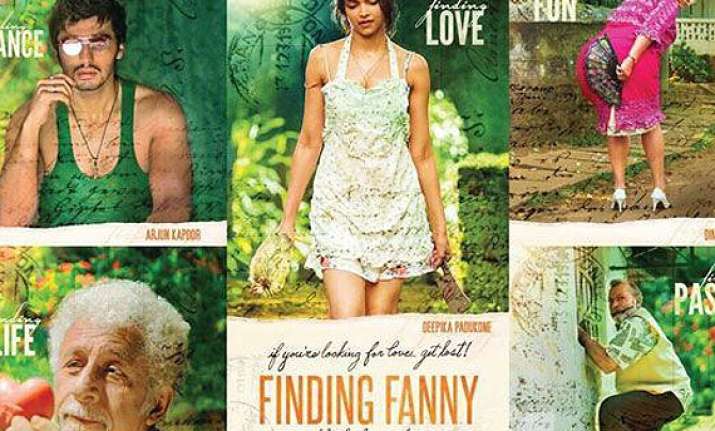 New Delhi: Finding Fanny, starring Deepika Padukone, Arjun Kapoor is out with its first trailer. And from the very first look at the trailer, the film seems to be catering to a niche genre of audience.
Creating a whole lot of mystery and playing around confusions, Finding Fanny is a quest of finding Stefanie Fanny Fernandes, the lost love of Naseeruddin Shah.
The other two characters in the film are Dimple Kapadia playing a modern aged woman who knows how to 'protect herself,' and Pankaj Kapoor as an interesting man in search of love that he amicably finds in Dimple Kapadia.
The trailer starts revealing that Deepika aka Angie has suffered a failed relationship as she says, "The first time I was kissed was on my wedding day -- 15 minutes before my husband choked and died. I'm a virgin."
The trailer of Finding Fanny slowly progresses towards the efforts of all the five truly unlike characters in finding Fanny Fernandes. A few shots also dig upon Deepika and Arjun's intimate chemistry but how far the film justifies their pairing is something to be seen!
From the trailer, it is evidently visible that both Deepika and Arjun seem lost in the film and their odd pairing looks dominated by the acting prowess of rest of the characters viz Dimple Kapadia, Pankaj Kapoor and Naseeruddin Shah.
The film that has been set with a typical Konkani backdrop appears to be lacking the grip. The music that surely entices you fits apt but the film looks more of an experiment.
Watch Deepika Padukone, Arjun Kapoor, Dim-ple Kapadia, Naseeruddin shah, Pankaj Kapoor starrer Finding Fanny's first trailer here...    
Directed by Homi Adjania who has also given brilliance in the form of Being Cyrus and Cocktail, Finding Fanny definitely cooks various interesting elements but all seems to be nothing more than a mere experiment.
A 90 minutes film, Finding Fanny is in English and that's something that paves as a hurdle for the masses to accept the film.
Though an appreciable effort, Finding Fanny appears to be taking a different stance on grooving serious realities of life. Deepika looks charming but not perfectly fit in her Goan character, Arjun is impressive but not upto the mark.
Produced by Saif Ali Khan's Illuminati film, Finding Fanny is slated for release on September 12, 2014.