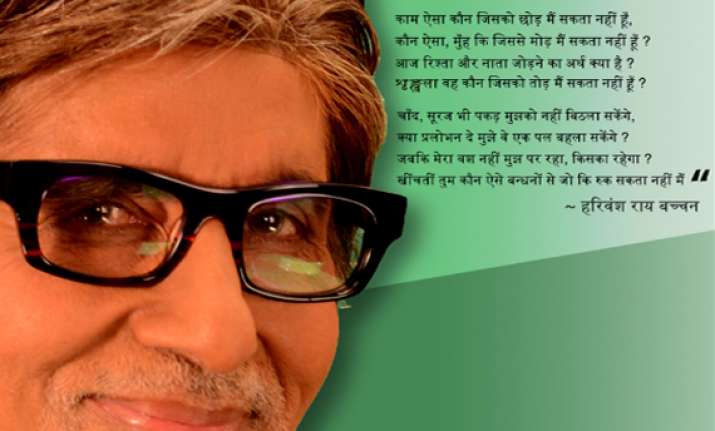 Mumbai, Apr 25:
Expressing happiness over his name being cleared in the 25-year-old Bofors case, megastar Amitabh Bachchan today said the clean chit has come "too late".
Addressing a press meet here after a former Swedish Police chief, the whistle-blower in the case, gave him a clean chit, the 69-year-old actor said he and his family had to suffer insult for no reason.
"I am happy that at least now I have been declared innocent. However it is sad it came out so late. I wish my parents were alive today to hear about my innocence," he said.
Bachchan felt this clean chit should have come 25 years back.
"I remember that when these allegations were levelled against me, my father had asked me if I had done anything wrong but I could not say anything that time. He was disturbed about the allegations. But today they are not with me to hear about this (clean chit)," he added.
In an interview to a website, former Swedish police chief Sten Lindstrom, who led the Bofors probe in his country, alleged Indian investigators probing the scandal had during a trip to Sweden in 1990 "planted the Bachchan angle."
Quoting the Swedish police, Bachchan said, "The original list submitted by them (Swedish police) did not even include my name in the accused list. It was planted by Indian investigators when they went to Sweden to procure the list."
Asked to identify the person in India who wanted to defame him, Big B declined to take any names and said he only wanted to clear his name in the scandal.
The megastar said that the question of compensation does not arise as the investigating agencies cannot make up for the suffering his family underwent all these years.
Bachchan, who won Lok Sabha election from Allahabad in in 1984 on Congress ticket but resigned three years later said, "As this controversy erupted before I quit politics, it was generally perceived that I did so because of the allegations against me. I did not quit politics due to this case. I quit because I was not good at politics." Recalling his determination about clearing his name in the 1987 scandal, he said, "I fought the case in court of law and got my name cleared."
Asked if this case had strained his relationship with the Gandhi family, who also had been linked to the scam, Bachchan said, "This question is not related to the case." The scam, estimated to be the tune of Rs 64 crore, related to supply of Howitzer guns to India by Swiss arms manufacturer Bofors. It was alleged that the Swedish firm had paid massive kickbacks to Indian politicians and defence officials to bag the multi-billion contract.
Bachchan, previously took to his blog to break the news of getting a clean chit and said truth had prevailed but nobody could fathom the anguish he had to go through because of the "petulant blame".
Meanwhile, Rajya Sabha MP and wife Jaya Bachchan said that she was happy that the truth has come out.
"I want to know how to erase those things which were written about him then for which he resigned. How will you erase those things. This should serve as a lesson that nothing should be done in haste," she told reporters outside Parliament complex in the capital today.
Earlier, Big B wrote in his blog:
"....I speak from personal experience and personal exoneration. 25 years after the incident, I read today from one that pioneered accusation and investigation, of innocence.
"Of the fault that never lay before me.
"Of one that remained and shall perhaps remain a darkened spot, blemished beyond all recognition, but in admittance of wrong doing against me.
"No one shall be able to understand or even remotely fathom, the hours and days and months and years of the anguish of petulant blame, that I had to go through. But will it really interest another ? No it shall not.
"For, those that colluded in desperation still abound, without as much as a conscious twitch on their well articulated and fashionably cleaned skins.
"And would it really have been of any relevance if they had ? Of course not !
"Their mission was misguidance, connived to its maximum, for issues that never ever did be of any concern in the execution of their own selfish mercenary agenda.
"They won momentarily. But lost ultimately. Lost position and strength and power yes, but importantly their conscience. And today that counts the most !
"Loss of one's conscience would have to be the most defeating element in our lives. Somewhere we shall all fall victim to it. But, greatness lies with them that redeem it …. in time !!"
In his blog, Big B waxed poetic:
"My faith restored, I see, feel, know and smile. Families function well when they share and absolve.
"We function well, because we endorse all that is shared among us. We share but one – the affection and the genuine grace that we inhabit each day.
"Without it we would have been languishing in non entities of our own complicated existence !
"During the course of these four wonderful years, I have discovered but one salient fact. Together we are a formidable force.
"We all come from issues, circumstances and disagreements. We were perhaps alone and despondent.
"We had known that sharing was the prescribed remedy in such, but we never realized its potency. And when it happened, when we met, discovered and acknowledged each other, the flood gates opened and washed all of us away – momentarily !
"The waters have receded. The dirt and rubble that came along has been washed away, and we sparkle in the fresh ambience that most waters enshrine !"