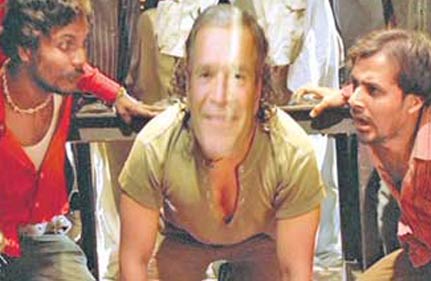 India's censor board known as the Central Board Of Film Certification has demanded removal of a scene of a character wearing a George Bush mask and a 'Gandhigiri' reference during a song in the Bollywood film Allah Ke Banday, reports MidDay.
The song has the former US President's mask pop up in the background during the line 'Duniya Ko Bhi Do Tukde Mein Aadha Aadha Karenge.' the board also wants the 'Gandhigiri' term to be deleted from the line  'Lathi Khaake Jail Mein Jaake Gandhigiri Karenge'.
Says Faruk, "I can't understand why they have taken exception to George Bush's mask. It is just a spoof on the world being divided into two groups. As for Gandhigiri, they have asked me to beep the word as there is a reference to going to jail."
The writer-director-actor is not left with much time as the film releases on November 12.  
"I have to take a decision in the next two days. We are trying to see how to edit Bush's mask as well as to remove Gandhigiri. It is proving to be a tough proposition."
As a last resort, he might have to edit the track from the movie. "But I don't want to do it," says Faruk.
The Kaala Jadu track has been penned by Junaid Wasi and Sarim Momin with music by Chirantan Bhatt.
Allah Ke Banday, which stars Naseeruddin Shah, Sharman Joshi and Rukhsar, delves into the subject of juvenile crimes.