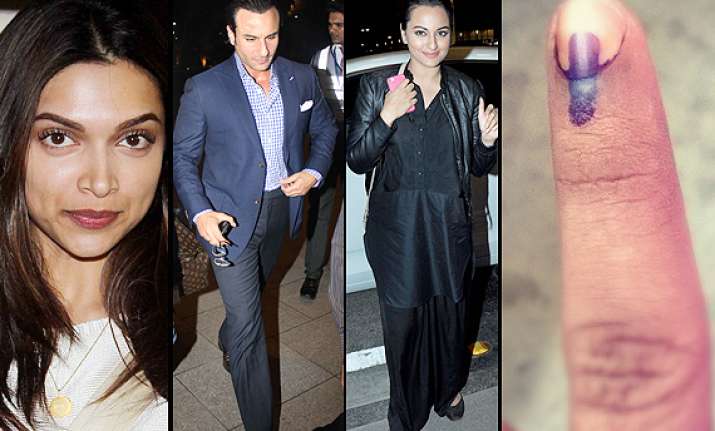 When the whole Bollywood is in celebration mood with IIFA 2014, here comes the date of national importance for Mumbai - April 24. Since it's the time for Mumbai to cast vote for the ongoing Lok Sabha elections, our Bollywood glitteratis are busy in gearing up for IIFA.
While many Bollywood stars have even left for Tampa Bay, where IIFA has to happen this year, a few are still staying back and are expected to leave after the voting day only.
Amongst those who have already boarded the flights for Florida, the name of
Saif Ali Khan
,
Deepika Padukone
, Sonakshi Sinha, Shahid Kapoor,
Malaika Arora
Khan, Kalki Koechlin are prominent.
Riteish Deshmukh too has left for the grand event but the actor had fulfilled his duty by casting vote in Latur, which went to polls earlier.
Though no doubt IIFA is surely a big prestigious event, skipping polls by the stars who are taken as idols in the country doesn't go at par with the 'good citizen' image of these stars.
Moreover, our B'town  stars have always been encouraging people to use their right of adult franchise and vote and therefore, avoiding such a pivotal day surely generates a lot of hoopla.
Bollywood's King Khan,
Shah Rukh Khan
who will be juggling between three paradigms – IIFA, polling and
IPL
is yet to take his final call since he has not left the country yet.
Actor
Ranbir Kapoor
is also expected to cast his vote and then leave for the event.
We wonder is there someone to keep an eye on our stars too!