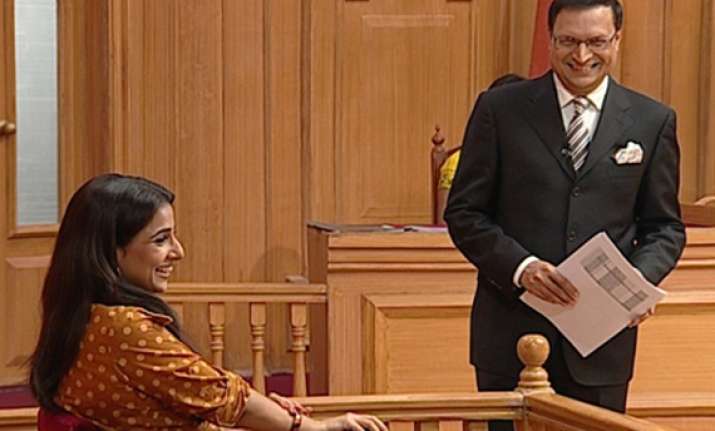 New Delhi, Dec 3: Bollywood actor Vidya Balan believes that she is on par with Emraan Hashmi as far as serial kissing on celluloid is concerned.

Replying to questions in Rajat Sharma's Aap Ki Adalat show on India TV, Vidya Balan said: "Let's say, we are on par, na woh aagey, na main aagey (neither he is ahead, nor me). Nowadays women can equal men in all spheres."

Balan however denied reports which had quoted her as saying that locking lips with Emraan was fun.

On reports that megastar Rajinikanth was unhappy about his character being portrayed in The Dirty Picture, Vidya Balan said: "Neither am I doing Silk Smitha's role, nor Naseeruddin Shah is doing Rajinikanth's role and nor Emraan is doing Mahesh Bhatt's role".

Vidya Balan however said, her role as Silk in the film was that of a sex bomb and dancing star of the 80s, but the storyline is not based on the real Silk Smitha's life.

When Rajat Sharma pointed out that her image as a consummate actress in films like Pa  and Parineeta has degenerated to that of a sex bomb, Vidya  replied with a dialogue from the film : " Badnaami ka koi dar nahin...Kuch logon ka naam unke kaam se hota hai. Meraa badnaam hokar hua hai." (I am not afraid of infamy...Some people get praise because of their work, I am getting it for infamy)

On wearing sexy costumes in the film, Vidya Balan replied: "Well, it's a sex bomb's role. You cannot do a saint's role wearing a bikini. I cannot do the role of a dancing star of the Eighties wearing clothes from top to bottom."

On her dialogue in the film "Mujhe jo chahiye, uska mazaa raat me aata hai" (I get fun only at night), Balan laughed saying, "I mean't sleep. You see, I can't help if people's minds are dirty and they think something else."

On her character being named as Silk, as in Silk Smitha, Polyester Padmini, Nylon Nalini (all sex bombs in the Eighties), Vidya Balan laughed and said: "Atleast, please do not call me Velcro Vidya".

"You see, my character celebrates her body, she celebrates her sexuality and there's nothing wrong in it. I loved doing that role", said Balan.

Vidya added: "I think, not only the boys, but the girls would also get fun watching the film. They will realise if you respect yourself, nothing matters whichever way the world looks at you."

The Bollywood actor said, her parents after watching the film told her: "As parents, we are proud our daughter had done this so boldly and with dignity. For me, this is a great compliment."

Asked which other actress could have done Silk's role better, Vidya Balan paused, and then smilingly said: "Maybe, Ekta Kapoor could have done this better than me."

Vidya Balan in Rajat Sharma's Aap Ki Adalat will be telecast on India TV on Saturday ( Dec 3) at 10:00 PM and on Sunday (Dec 4) at 10:00 AM and 10:00 PM.