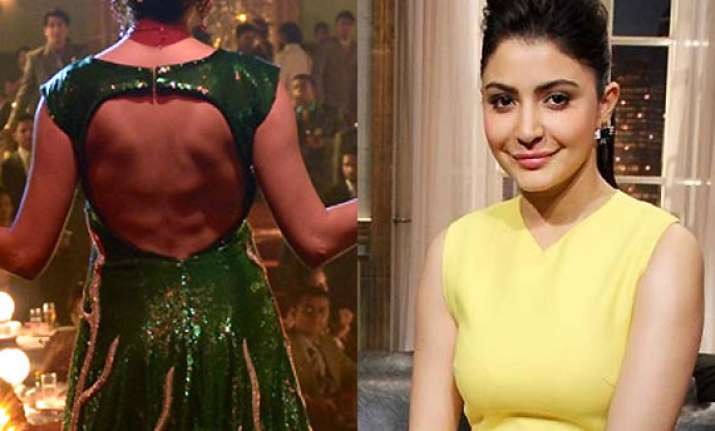 Anushka Sharma who has been tight-lipped about her upcoming projects, 'Bombay Velvet' & 'NH10' has given her fans some shock lately.
Few months back on a chat show with Karan Johar, Anushka Sharma sparked off the rumour of a botched lip-correction surgery, when she arrived with director Anurag Kashyap for her upcoming movie 'Bombay Velvet' and if that wasn't enough the actress has yet again shocked her fans.
This time Anushka Sharma has given away glimpse of her alarmingly bony-structure in a specially tailored 35 kg gown for 'Bombay Velvet', weighed down by something seeming to be much heavier than her own weight.
Lately the Bollywood diva has been spotted with drastic weight loss, which has left her with an alarmingly tiny structure.
In Anurag Kashyap's Bombay Velvet, Anushka is playing the role of a jazz singer from late 70's. This stunning, shimmer gold and emerald creation by designer Niharika Bhasin Khan has been used for her opening song in the period drama.
The sequined gown is laced with heavy embellishments and a long train covered in appliqué flames.
Designer Niharika explains the entire scene, "The scene sees her behind the mic in a club. It took her two-and-half hours to dress and two assistants had to carry the train for her. Thankfully she did not have to dance in it"
For this film alone the designer had carved out a total of 144 dresses for Anushka.