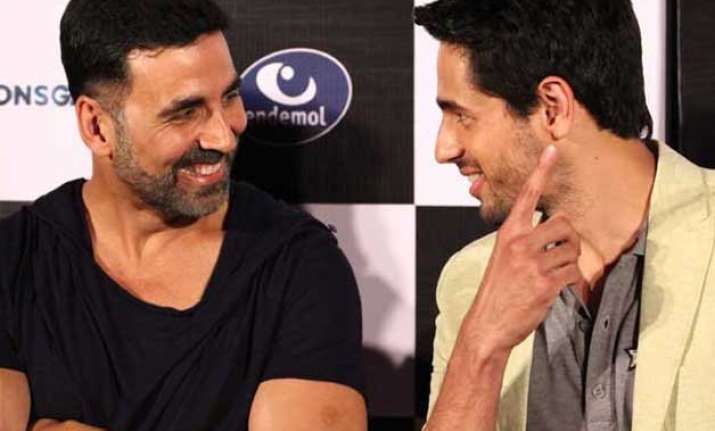 Mumbai: Akshay Kumar seems to be acting a big brother to his 'Brothers' co-star Sidharth Malhotra in real life too! Akshay recently advised the 'Ek Villain' actor, who is house-hunting, to look for a bigger house.
As mentioned in a leading daily, a source has been quoted saying that when Sidharth discussed with Akshay about buying a small house for himself in Mumbai, Akshay suggested buying a bigger house instead. This is a piece of advice that Akshay usually recommends to his near and dear ones as this not only brings an element of security but also acts as a drive for an individual to work harder.
The source said, "He told Sid that if he is thinking of a two-bedroom flat, he should actually pick a 4BHK. If he plans to bring in his parents, he should think of something even bigger. He even suggested that it wouldn't be a bad idea to even keep on an entire floor to himself, as a house is a long-term investment and a safe one as well."
When Sidharth was reluctant to do so as he felt that a bigger house would require that much more money, Akshay, based on his own experience, suggested that only if someone thinks a few notches higher would he be able to earn more as well.
"Akshay told Sidharth, 'Tu darr mat, bas le le; agar loan lena padta hai toh woh bhi kar, par soch mat kyonki paisa aa jaayega' (Don't be scared, simply buy. Even if you have to take loan for it then do it, but don't think because money will follow)," the source added.