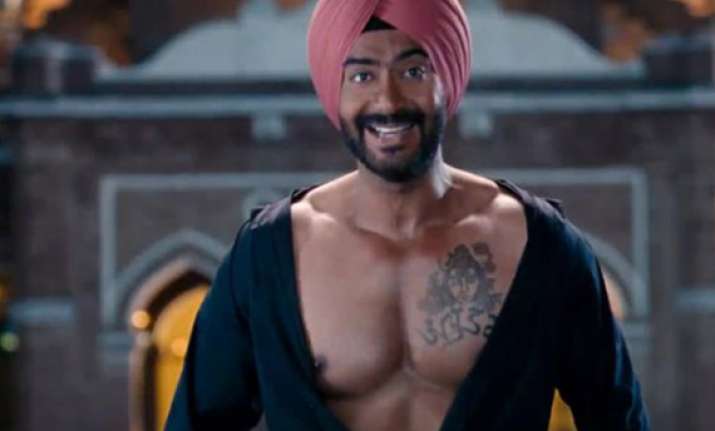 Mumbai, Oct 5: Bowing before the sentiments of the Sikh community, actor-filmmaker Ajay Devgn has agreed to delete certain offensive dialogues and scenes from his forthcoming venture 'Son of Sardar', an official said here Thursday.
Congress leader and legislator Charan Singh Sapra had raised objections to certain dialogues and promos of the movie, which he contended hurt the sentiments of the Sikh community.
Last month, Sapra, who is also Punjabi Cultural Heritage Board (PCHB) president, had written a detailed letter pointing out the community's objections to Devgn.
This culminated in a meeting between the PCHB officials and Devgn as well as one of the producers, Kumar Mangat during which the entire issue was discussed threadbare.
On Thursday, Devgn and his associates submitted in writing that they would omit the objectionable scenes - both from promos and the movie - prior to its release, scheduled soon.
Devgn has also agreed to permit PCHB and Sapra a preview of the amended promos and revised portions of the movie for their complete satisfaction, even before it is sent for censor certification, Mangat said in a statement here Thursday evening.
"They have also agreed to remove the promos from YouTube and the internet for which they required 48 hours time," Sapra said, expressing satisfaction at the resolution of the issue.
While raising the matter with Devgn, Sapra said that historically Sikhs had been brave warriors during both Mughal and British rules.
"Even post-Independence, India has a great contribution from the Sikh community. The present army chief is a Sikh and the nation is led by a Sikh, Prime Minister Manmohan Singh. Mainstream cinema should project a 'true Sikh' instead of portraying them as bumbling fools," Sapra noted.
Sapra termed insensitive cinematic portrayals as "a deliberate and malicious act" intended to outrage the religious feelings of the Sikhs, which also amounted to violations of the law.