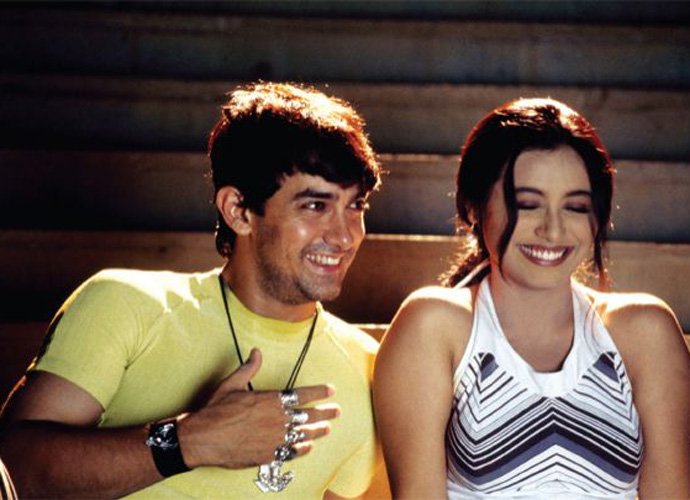 Remember the song 'Aati Kya Khandala'? It turned 20 today. Actually, the Aamir Khan-starrer film Ghulam clocks two decades today on Tuesday. 20 years ago on the same day, the film released in the theatres. Starring Rani Mukerji, the Vikram Bhatt film turned out to be a huge success at the box office. Ghulam made Rs 13 crore at the box, which is an impressive number considering the year it was released in (1998). As the film turns 20, Twitterati celebrated its 2 decades with special hashtag #20YearsOfGhulam. Here's how the netizen are sharing their views on this crime-thriller film that rocked the box office in the late 90s.
Sharing one of the hair-raising scene from the film in which Aamir Khan is seen racing against a train at the railway track, one user wrote, "This film is very close to my heart as it is the film that transformed me into a big @aamir_khan fan. Still get goosebumps when I see the train stunt as it was only 1.3 seconds difference.  Also first time he did playback singing it became such a rage. Respect."
For the uninitiated, Aamir Khan lent his voice to the famous song Aati Kya Khandala and it became a rage among the fans at that time. The song also led to the instant fame of the hill station Khandala.
Aamir for the first time sang in his voice for Aati Kya Khandala and it became a rage. "Aati kya Khandala" became very popular and Khandala hill station became popular #20YearsofGhulam

— K 🐍 (@Kush__yadav) June 18, 2018
Still in love with this bgm 👌👌🔥🔥#20YearsOfGhulam pic.twitter.com/i1r1RoqVOS

— ɓαтмαɴ (@Aamirs_Batman) June 19, 2018
Also, the scene where Aamir runs towards an oncoming train is performed by himself without a body double. He realized how close the train came to him only when he saw the scene in the editing room.
Aamir Khan didn't wash his face for 8 days to look ragged for the climax scene in Ghulam.
Good Morning #20YearsOfGhulam pic.twitter.com/o212tEI5Ax

— тнυg (@Aditya_AK_) June 19, 2018
Budget- 7cr
Box Office Collection- India 13cr, WW 24cr
Footfalls- 1.09cr
Verdict- Hit
Domestic 6th HGOTY, WW 7th HGOTY
IMDb Rating- 7.4/10@aamir_khan #RaniMukharjee#20YearsOfGhulam pic.twitter.com/hpLWeHUYDP

— $@M (@SAMTHEBESTEST) June 18, 2018
According to the IMDb, if Ghulam was made in 2017, its net gross would've been equal to Rs 101.54 crores. In 2018, it's equal to Rs 177 crore which suggests a massive box office hit.
Celebrating #20YearsOfGhulam ,
Love you @aamir_khan sir.. @ pic.twitter.com/9JVPtDVhAW

— SANJAY KUMAR (@SANJAY_AKF_) June 19, 2018
Originally titled Zakhmee, Ghulam was a remake of 1988 film Kabzaa.  
Aati Kya Khandala- Ghulam Full Video Song