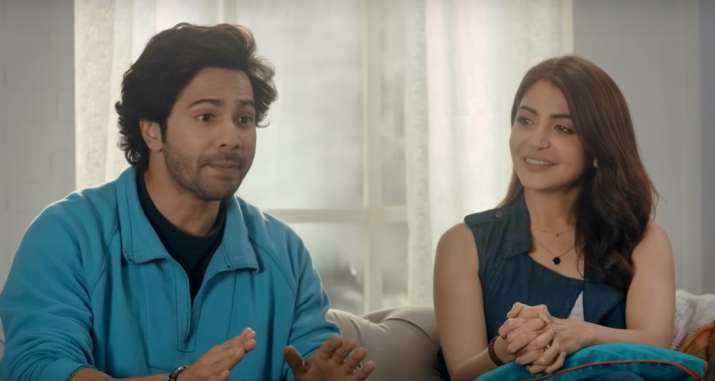 Varun Dhawan and Anushka Sharma's Sui Dhaaga is just around a month away. The film, which boasts about being truly 'Made In India' went on to making the news ever since its inception. Courtesy fresh pairing, Sui Dhaaga has always found one way or the other to hog the limelight; be it for its leaked pictures or the posters, Sui Dhaaga always remained in headlines. Now when the release date is gearing near, the makers including director Sharat Kataria have taken their promotions activity a notch higher. On the occasion of Handloom Day, the star cast of Sui Dhaaga reveal a video telling how they got their logo made by the artisans.
Sharing the news on her Instagram account, Anushka wrote, "India से बंधा हुआ, सुई धागे से जुड़ा हुआ. Presenting a logo that's truly unique. #SuiDhaagaLogo #SuiDhaagaMadeInIndia @varundvn #SharatKatariya #ManeeshSharma @yrf"
Since Sui Dhaaga is based on Small and Medium Scale Industries, the logo of the film was made by the artisans. It's the first time ever in Bollywood that a logo is made by the artisans and not graphics. The team reached out the local artisans from the remotest places of India to create the logo of the film.
"To position our film Sui Dhaaga – Made in India, we realised that it was just not enough to act like a film marketeer. In fact we had to look at ourselves as a team marketing the art and handicraft culture of our country. With this embodiment of our strategy we needed an idea that would be the fulcrum of our entire campaign. And what could be a better idea than inviting the artisans of our country to design the logo of our film. We reached out to 15 uniquely skilled artists/artist groups across the lengths and breadths of our nation who helped us design our film logo. It has been an exhaustive and most rewarding experience for all of us at YRF. It has taken six months to plan, research and execute our logo in 15 different styles that celebrates our country's diversity and entrepreneur spirit." says Manan Mehta, VP – Marketing and Merchandising, YRF.
By getting the logo done in as many as 15 different needle art forms from India, the Sui Dhaaga team aims to create awareness of India's culture among today's youth. Interestingly, YRF decided to drop the logo on National Handloom Day.
Starring Anushka Sharma and Varun Dhawan, Sui Dhaaga is slated to release on September 28 this year, just before Gandhi Jayanti.