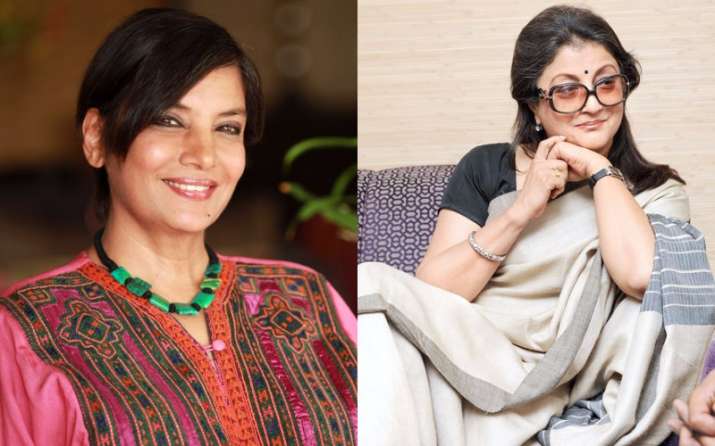 Shabana Azmi and Aparna Sen believe that the silent majority has to take the centre stage and protest for democracy. The actresses made this statement against the backdrop of the global women's movement and fundamentalism. 
"The silent majority has to stop watching from the sidelines and take centre stage and that is very important for the health of any democracy," Shabana said here.
Talking about women's empowerment amid the current scenario of anti-Romeo squads and rise of fundamental forces she highlighted the contrast but expressed optimism that women can negotiate a place for themselves.
Also Read: Shabana Azmi spotted travelling by metro in Delhi
"India is a country that lives in several centuries simultaneously. On one hand we see very empowered women but on the other hand female foeticide is practised... but when I look at the whole picture I am an optimist," she said here at a session on 'Text to Context' on the forthcoming film "Sonata".


"There is a very robust civil society and democracy and it fights back and gives it back with all its strength and my optimism comes from that," she said.
The social activist reposed confidence in the global dialogue on women's movement that she said is trickling into India as well.
"Some of the global dialogue that is taking place with the women's movement is bound to infiltrate India and it is already doing so. Women have achieved a lot but have a lot more to achieve," she stressed.
However, actress-director Aparna Sen's optimism was tinged with a "niggling worry".
"I am hopeful but also worried... I hope the present climate of fundamentalism will not affect society in a way that women will be forced back," she said.


To ensure that there is no turn-around of the women's movement, she called for protests against dictatorial ideas.
"Liberals take liberalism so much for granted... you don't have to constantly assert... one grows with these ideas and you are so completely comfortable with them... but our children are subjected to these ideas and it happens in any society... it is very important we all protest (against) reactionary ideas and very dictatorial ideas. We are not doing anything at the moment," she said.
(With IANS Inputs)