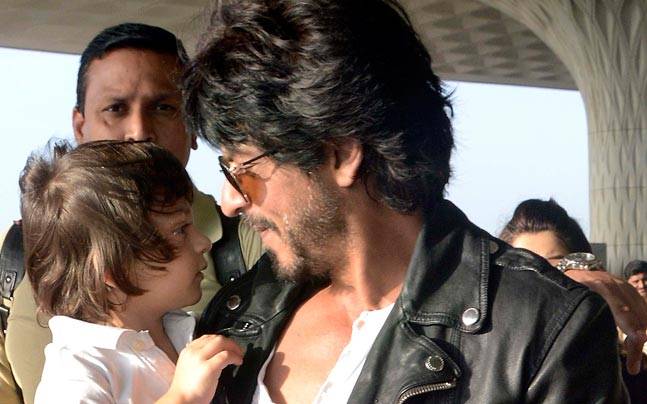 Superstar Shah Rukh Khan, who has completed 25 years in the Hindi film industry, feels that art holds more importance than artiste. The King of Romance of Bollywood made this statement at the launch of his biography titled, 'SRK: 25 years Of a Life' penned by by "Kuchh Meetha Ho Jaye" director Samar Khan.
The 51-year old actor compared actors to water and should adapt to any colour and shape. He said the art remains and not the artist and he feels that he can work with some amount of purity.
"The purity will be retained if I believe that my art is important than myself," Shah Rukh Khan said.
Revealing the cover of the biography, SRK said on Twitter that it will make his younger son AbRam really happy.
Thk u @samarmumbaikhan this is so special. The book is lovely & my lil 1 is happy to c so many papas #25yearsofalife pic.twitter.com/YnoF3d5dnQ

— Shah Rukh Khan (@iamsrk) November 9, 2016
Talking about the journey, King Khan said that 25 years ago he came to the film industry as juts another Delhi boy but see is glad how things have changed. He said the years have been full of excitement, hard work and various ups and downs. He said the book is a tribute to all filmmakers who believed in him.  
Recalling his initial days, he said: "I was an odd-looking guy, I was not from a film background, I spoke too fast but I am thankful all the filmmakers and those friends who gave me an opportunity. So for me if a newcomer comes I have been trained by people like these to respect the newcomer and love them."
Shah Rukh also revealed that being the star, the choice of roles being offered to him get limited.
"Sometimes it's awkward... today being in this position, the choices are less. I meet many directors but it goes out of hand sometimes. Despite spending 25 years, I still feel like a newcomer. I find it awkward I have spent 25 years but I still feel like a newcomer."
Titled "25 years of a Life", the book captures interesting incidents from King Khan's successful journey in the industry. Each of its 30 chapters are a director's take on a particular character crated by them and portrayed by SRK.
Samar Khan said: "This book was the perfect chance for me to twll the SRK story from a different lens. I would like to thank everyone involved who has made this dream project a reality."