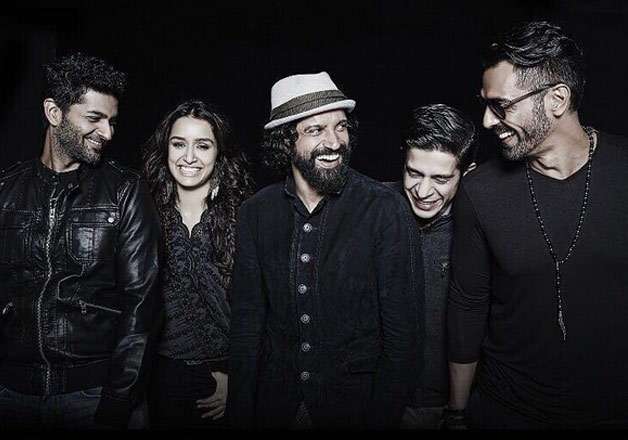 The upcoming movie 'Rock On 2' has created quite a buzz before its scheduled release on November 11. The stars of the movie Arjun Rampal, Prachi Desai, Purab Kohli and Shraddha Kapoor unveiled their character posters earlier today. The teaser of the movie will be released on September 5.
These posters will ease the anxiety of every cine buff who watched Rock On! And make them excited for the sequel.
Have a look:
Ek Nayi Manzil, Kaie Naye Raaste ~ Jiah Sharma #ReliveTheMagik #RockOn2 🤘❤️ pic.twitter.com/ytZPCndWMz

— Shraddha (@ShraddhaKapoor) September 3, 2016
Itna Aasaan Nahi Apni Pehchaan Doondh Paana - Uday Mishra #ReliveTheMagik #RockOn2 pic.twitter.com/0zOZVavPeB

— Shashank Sunny Arora (@ShashankSArora) September 3, 2016
8 yrs on #Music is still the only thing that matters to him. Music Nahi Toh Kuch Nahi - KD #ReliveTheMagik #RockOn2 pic.twitter.com/qADqUgcMjq

— Purab Kohli (@Purab_Kohli) September 3, 2016
Aisi manzilen phir aayen ya na aayen, is safar mein chalte rehna zaroori hai - Adi.#ReliveTheMagik #RockOn2 pic.twitter.com/SDvXDhJ2Iv

— Farhan Akhtar (@FarOutAkhtar) September 3, 2016
And this is Joe, 8 years later. And still lives and loves his music. #RockOn2 #ReliveTheMagik pic.twitter.com/Ule7mq8VB8

— arjun rampal (@rampalarjun) September 3, 2016
Amazing aren't they?
Speaking about the movie Farhan Akhar said that the biggest challenge is to live up to audience's expectations.
Most importantly, we have a certain responsibility to the sequel and the people who have really kept the memories of the film alive so that while watching, the audience would feel that we have made the film with same sincerity and love," he told reporters.

"The biggest challenge is to live up to the audience's expectation," he added.
"Rock On!!", a 2008 rock musical, launched the acting careers of Prachi Desai and Farhan. Farhan even produced the film, which also stars Arjun Rampal, Luke Kenny and Purab Kohli and "Rock On 2" is a sequel of the film.
Talking about the music, Farhan said:
"I think we became more matured in these 8 years. We have included instruments like Keyboard, Sarod. It will be interesting as the writing is little more matured from the first one," he said.
(With IANS Inputs)