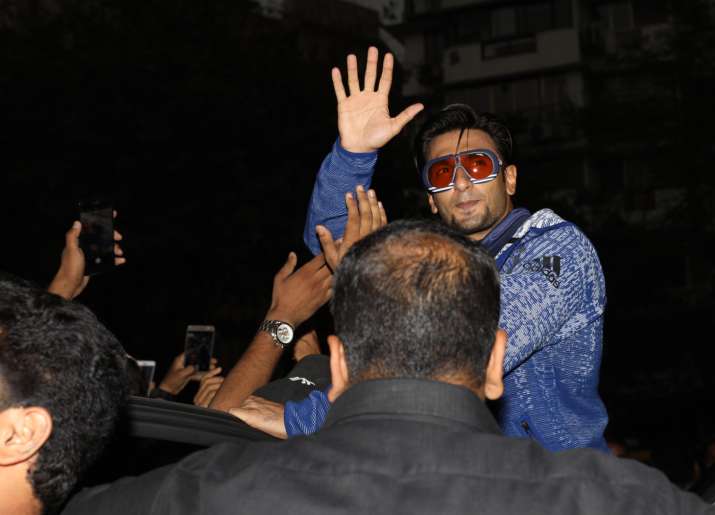 Ranveer Singh is soaring high on success ever since Padmaavat's colossal performance at the box office. He is hands down one of the most pragmatic actors in Bollywood and he has time and again proved his mettle with a number of hits in his list. Acting comes effortlessly to the Padmaavat actor. Now such is the fame and stardom of Ranveer Singh that fans are lining up in long queues to click a selfie with 'Baba' (As his fans call him on social media).
Ranveer Singh, who was shooting for Gully Boy around Bandra, was spotted a popular club in the vicinity. It isn't surprising that as soon as his fans came to know about his presence at the club, they flocked the area like birds to click one picture with the superstar. Usually we see how fans mob the celebrities to click pictures with them. In the process of clicking pictures, they often end up injuring someone in the crowd.
Ranveer Singh, who has reached this pedestal in his life, knows how to handle the fame and his fans as well. He made them stand in a civilised queue and clicked pictures with them, giving time to each one of them patiently. He smiled for everyone and this whole sight made for a record-worthy moment. Photo journalist Viral Bhayani shared the video on his Instagram account. 
It was amusing and really heartwarming to see that a superstar of such stature realises the importance of his fans. The Alauddin Khilji of Padmaavat looks at utmost ease as he interacts with fans. This is what his trademark style is. He is known on social media for his easy going demeanour around his fans. Often his fan pages share the picture of the superstar with his fans.
We've got to say that Ranveer Singh is coming at par to his contemporaries like Shah Rukh Khan when it comes to interacting with fans on personal level.