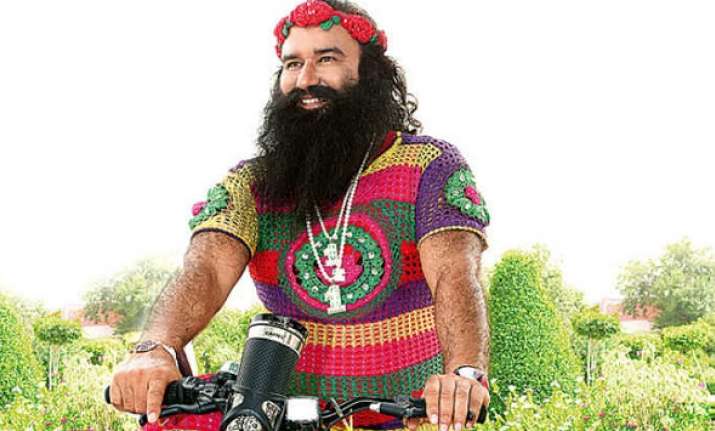 Gurmeet Ram Rahim is not just a self-styled godman, but also a movie star with five films under his belt. He made his Bollywood  debut with MSG: The Messenger of God and he is now preparing to release his sixth film MSG: The Online Gurukul. Baba Ram Rahim's two films, 'Messenger of God' and its sequel, include sequences in which he fights off villains in garish outfit and tosses burning motorbikes into the air. Guru Ram Rahim fought an entire army single-handedly because they wanted to neutralize the tribes. In his films too, he plays a spiritual leader donning blingy outfits and engaging in logic defying action sequences to save humanity. Mouthing dialogues like - 'Koi kehta hai sant, koi kehta hai farishta, koi kehta hai guru, koi kehta hai bhagwaan, par hum toh hai sirf ek Insaan!' to a thunderpous applause by his bhakts.
Also Read: Ram Rahim followers refuses to leave, Police clueless how to remove them from Panchkula
As per reports, 1,95,872 people attended the premiere of MSG2- The Messenger in Gurgaon on September 16, 2015, that was recorded by the Asia Book of Records.
Gurmeet Ram Rahim Singh 'Insan' has been convicted for rape today by CBI court in Panchkula. He is also an accused in a murder case. Baba Ram Rahim has dedicated followers who worship him despite all the accusations and are willing to sacrifice their lives for him. For the last couple of days two states were holding breath for the verdict today in which he was convicted. Chaos ensued with his followers torching a railway station and attacking media persons. LIVE updates
Take a look at the trailers of his films:
MSG: The Messenger Official Theatrical Trailer
MSG The Warrior - ''LION HEART'' Official Trailer
MSG-2 The Messenger Official Trailer
Jattu Engineer Official Trailer
For more entertainment news and updates, follow our Facebook page