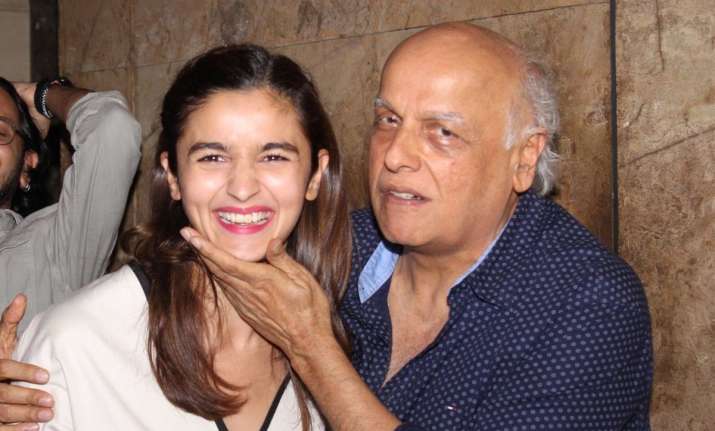 Bollywood's brightest and youngest star Alia Bhatt turned 25 today. The Twitter world was abuzz with wishes for the young talent, who is counted amongst the best actresses in Bollywood today. 
To mark this special day, Alia took to Instagram to share a throwback video of her dad Mahesh Bhatt with her on his lap. In the video, Mahesh Bhatt is seen singing the birthday song for Alia while she dances on his lap and her mum Soni Razdan shoot the video. 
She captioned the video, Daddy's little girl. Whether you're 1 or 25 @maheshfilm@sonirazdan
​
Apart from this, Alia wished herself on her 25th birthday by sharing the pictures of 'Sehmat', her character in Meghna Gulzar's Raazi. She wrote, "Movies or in this case MY movies aren't just something I do for a living.. it's kinda the reason I feel like I'm alive SO...On my 25th birthday I've randomly picked out two images from the 25th DAY of shoot of RAAZI and and and the TRAILER will be out 25 days from today(9th April).. Happy Birthday to me."
Following her post, sister Shaheen Bhatt also wrote an emotional note to wish her baby sister on her birthday. However, it was mother Soni Razdan's Instagram post that caught our attention.
Sharing a collage of childhood pictures of Alia Bhatt, former Bollywood actress Soni Razdan wrote, "On this day 25 years ago you were born Alia. Your name had already been chosen in my head. Alia Knightly was a lovely British Indian model and when I read that name I had decided if I had a girl we would call her Alia. Luckily your father agreed. I had no idea what the name meant then. It was many years later that I found out it means 'exalted'. And that you most certainly are. A month before you were born I had a dream. I saw your face clearly in that dream. Since then in these 25 years you have scaled great heights in your young life... true to your name. On this day, your birthday, I wish you all the best as always... but I also wish that you keep your core self intact. Your special simple sweet self intact through all the craziness and the heady ups and the not so heady downs of life ... don't lose sight of who you really are inside. Because it's that self that will be your guide and your most precious companion. Wish we were with you today... Happy Birthday sweetheart. Have a glass for me. Love always ... Mama"
Shaheen Bhatt also wished her 'personal defence lawyer' on her 25th birthday. She used many such titles to address her baby sister Alia with.
Alia's dad Mahesh Bhatt took to Instagram to share a post that described Alia as a miracle. He wrote, Such a BIG miracle in such a LITTLE girl! Happy Birthday Alia.
Unlike previous years, this year the Brahmastra actress is having a working birthday. Due to tightly-packed schedule, Alia is unable to leave Bulgaria, where she will be celebrating her birthday with Ayan Mukerji and Ranbir Kapoor.