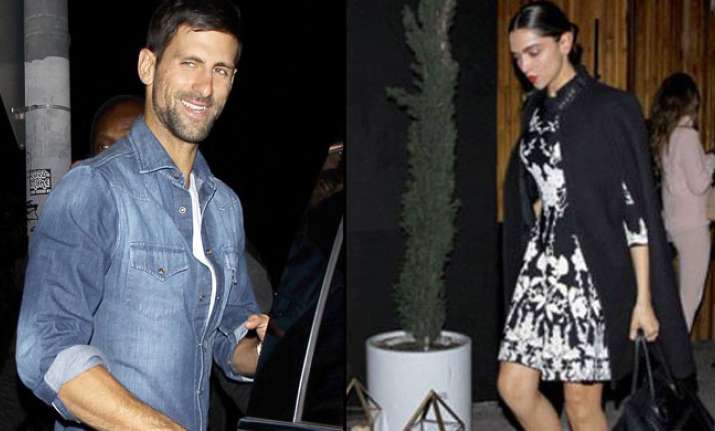 New Delhi: The leading British tabloid Daily Mail is at the receiving end of fire from Indian fans when they failed to recognise Bollywood beauty in one of their articles. Daily Mail on 08 March 2016, carried a piece of ace tennis player Novak Djokovic leaving a plush bar with a female companion. What the leading daily failed to realise was that this 'female companion' was none other than Deepika Padukone.
The piece read, "Novak flashed the paps a cheeky grin before joining his impeccably turned-out friend in the back seat of a getaway car."
As soon as Deepika's fans in India came across this news item, they went berserk. Deepika Padukone started trending on Twitter almost immediately.
Definitely, Indians are very touchy about their celebs and unknowingly Daily Mail hurt the wrong lot. One of the reasons why Daily Mail's blunder affected Indians much is because Deepika is one of the most sought after actresses of Bollywood and is also all set to make her Hollywood debut. In the year 2017, she will be seen in the role of Serena in Vin Diesel's movie, 'xXx: The Return Of Xander Cage'.
Many in Twitter went as far as correcting the newspaper for their mistake. The tabloid had a gossipy tone to their story when they called Padukone a "leggy brunette" dressed in a "flirty frock which was decorated with a statement floral print and skimmed her knees."
Here are a few tweets by the fans of Deepika who urged Daily Mail to get their facts straight before running a piece.
However, after receiving so much of flak the British Daily corrected their mistake. Their new headline reads, "Novak Djokovic leaves The Nice Guy with Bollywood star Deepika Padukone". It was not unexpected given the fact that Novak Djokovic has followed Deepika on Twitter.