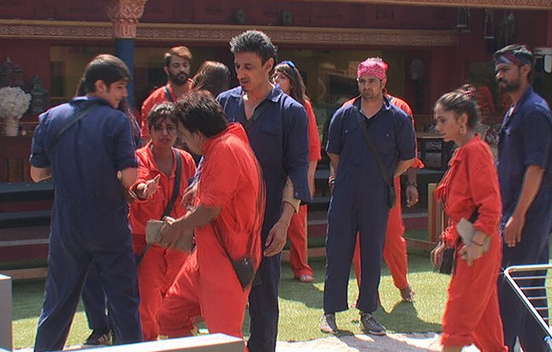 The second week of high-octane reality show Bigg Boss will witness more arguments than the first one and the luxury budget task seems to be adding more fuel to it. This week, the inmates have been given the task to wash clothes.
Under the BB laundry task, the contestants are supposed to pick up dirty clothes, wash and iron it and then present it to an inspector from the opposite team to check. From Team Blue of celebrities Rohan Mehra has been appointed the inspector and Nitibha Kaul that of Team Orange of India-waale.
Today viewers will see a big argument between both teams. As soon as the task will start, both the teams will want to get as many clothes as they can from the conveyor belt.
During this process, Swami Om Ji will drop a shirt which will be picked up by Lopamudra Raut. To this, Om ji will scream accusing Lopa of stealing clothes further angering Manu and Manveer.
Later in the task, Rohan will explain to his teammates that Manu and Manveer are being unfair and charging towards him. This will irritate both the India-waale contestants and they will retort to means to instigate Rohan.
This is not all what you will see tonight. Tonight, viewers will also see a usually calm Navin lose his temper on Rohan. The actions of Rohan will irraite Navin who will say, "Baat karte karte agar main pagal ho gaya toh koi nahi bolega!"
This task has managed to deepen the differences between the teams pointing that the coming days will have more of these fights in the house.