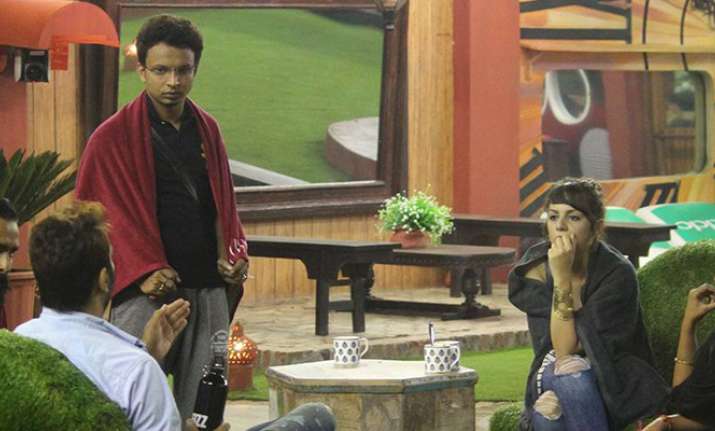 By bringing common people and celebrities under the same roof, the makers of Bigg Boss have tried to bring back the mojo. The first episode of the tenth season that aired yesterday hinted that they might have succeeded. Largely, the first episode's crux was about common people trying to trouble celebrities with their petty demands, and the latter unwillingly obliging.
Bigg Boss stated that India walle will be the maaliks of the house for this week while celebs would be the sewaks. The set rules meant that commoners would not do any household work and celebrities will have to listen to whatever they say.
As soon as power came in their hands, aam aadmi primarily Priaynka Jagga and Manu started devising plans to trouble celebrities. Priyanka told actor Gaurav Chopra that the pool (which Bani J had already cleaned) was dirty and to get the needful done before they get down in it. She was also seen complaining about the food to actor Rohan Mehra. Manu was spotted scheming with his fellow india-waale asking then to not get soft on celebrities.
After Priyanka and Manu were collectively nominated by the celebs for eviction in first week, the two seemed irked and their expressions hinted that they would not let it go easily.
One thing which stood out in the first episode was Priyanka's cat-fight with Bani. The former took offence when the latter did not reveal her age creating a scene in the first day itself. Later in the day, Priyanka spoke to Gaurav and tried to know more about his life. The uninteresting questions she asked and the way Gaurav sarcastically answered them hinted his impassivity.
The first episode confirmed that the non-celebs have to learn how to survive in the house- spark fights, and make mountain out of molehill unnecessarily. It will be worth seeing how long to the celebs keep up with their patience.
The bomb is ticking!