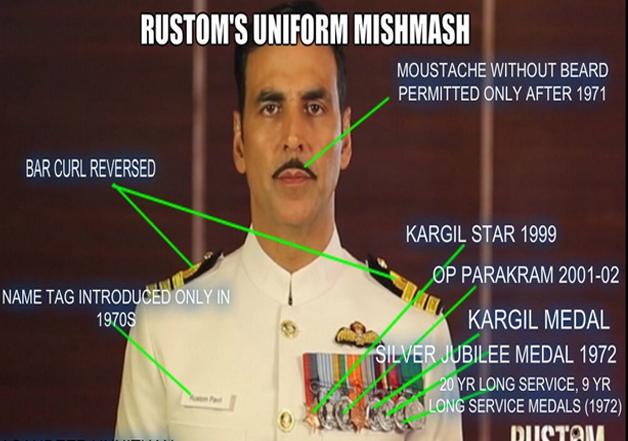 Making movies on historical subjects comes with a lot of responsibility. The team has to put in a lot of effort to bring alive on screen a story which has aged. It is through these movies that the masses see what went by and what shaped the present.
Last Friday, two such period movies released 'Mohenjo Daro' and 'Rustom'. Historians slammed the former movie for not being authentic enough. The Ashutosh Gowariker directorial received brickbats from people who studied the bygone era of Indus Valley Civilisation for depicting it wrongly, be it the headdress of Pooja Hegde's character Chaani or the violence shown in the movie.
While the team of 'Mohenjo Daro' defended their movie by saying that they had little material to look up to, looks like its box office competitor too miffed historians.
Akshay Kumar's 'Rustom' did not go down well with a netizen. With just one tweet he pointed out all what is wrong with Akshay's uniform in 'Rustom'. In the crime thriller, Khiladi Kumar plays the role of a decorated naval officer being tried for the murder of his wife's lover.
For the better part of the movie, Akshay can be seen donning a white uniform embellished with medals which tells tales about Rustom Pavri's dedication to his work.
But the medals were, apparently, not present at the time the movie was set, 1959. Have a look at the tweet which has gone viral on social media.
Bollywood can never get the uniform right. The horrid #Rustom (set in '59) is no exception. pic.twitter.com/t7NyaJaGdM

— Sandeep (@SandeepUnnithan) August 15, 2016
As soon as this tweet went viral, many criticised the movie.
Amidst this entire furore, the costume designer of the movie Ameira Punvani defended her work by saying that one takes a little liberty when making a movie.
Ameria during her interview to a leading daily said,
"So we wanted to show is that Rustom is a very well decorated officer. You know the images showing the medals from 1971 and something, but it doesn't take away from the character, you don't think ki yeh 1971 mein toh tha nahin. The masses who are watching it or the classes who are watching it, it's not taking away from the character, it's juts showing he is a very well decorated officer, if he had only one or two medals, everyone'll be like 'hey man chota mota officer hoga!' We are not giving a disclaimer that Rustom did this, Rustom did that, it's their for the people to understand, that's why we've done what we've done."