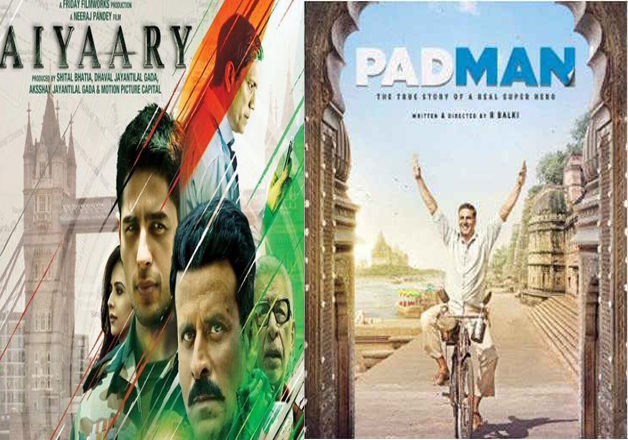 Filmmaker Neeraj Pandey is not concerned about his upcoming film Aiyaary clashing with frequent collaborator Akshay Kumar's Padman. The two films will fight it out at the box office on January 26. Featuring Manoj Bajpayee and Sidharth Malhotra, Aiyaary narrates the fallout and subsequent face-off between two Army officers - a mentor and a protege. 
While Akshay's Padman, directed by R Balki, is based on the life of Arunachalam Muruganantham, the inventor of a low- cost sanitary pad-making machine in India. 
When asked about the clash, Neeraj told reporters, "What can I say about Padman? When our film was launched, we wanted to come on January 26, 2018. That's the journey of the film and we are looking forward to it." 
When asked if he ever spoke to Akshay regarding the clash, the director said, "I'll just say that about four days ago, Sidharth, me, Akshay and Balki had lunch together. That was a good lunch. We all came out smiling." 
Neeraj has collaborated with Akshay in films such as Baby, Naam Shabana, Rustom and Special 26. Akshay and Sidharth have starred together in the 2015 film Brothers. 
The director was speaking at the trailer launch of the movie. 
Neeraj said the idea for the drama-thriller struck him while he was working on Baby. 
"The work for the film, in a way, started during Baby. Even while we were shooting for 'MS Dhoni', something was going on in my head for Aiyaary," he said. 
When asked if Neeraj is worried about the censor certificate as the film is still in post-production, he said, "My production team will be in a better position to answer the question, about which process has already been started. I am not aware of it. I am worried about everything, as far as the rules and regulations are concerned. I think the team would have already initiated the process." 
(With PTI Inputs)