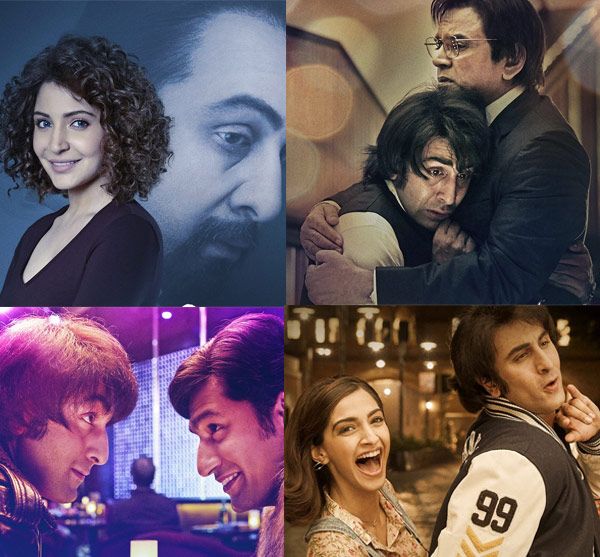 5 noteworthy moments from Sanju trailer
The Ranbir Kapoor starrer Sanjay Dutt biopic is one of the most awaited films of 2018. The Sanju trailer hit the internet on Wednesday and since, then it has been grabbing several eyeballs. Ranbir Kapoor's emotions, acting, reactions towards every situation prove that how Sanjay Dutt has gone through every situation in life. 
From introducing fans to his early life as the son of veteran actors Sunil Dutt and Nargis Dutt to his dark times in the world of drugs and the infamous 1993 bomb blast controversy, Sanju touches upon everything known and lesser known about Sanjay Dutt. Here are five noteworthy moments from Sanju trailer.
Ranbir Kapoor's breath-taking performance 
The trailer pulls attention to how brilliantly actor Ranbir Kapoor has stepped into the shoes of Sanjay Dutt and made them his own. Ranbir is hailed for his acting skills and his several transformations for one single film is worth an applause. From copying Sanjay's style of walking to talking, the actor has surely registered a slot with the most coveted award ceremonies.
Rajkumar Hirani's stellar direction 
The Sanju trailer showcased to us the brilliancy of Rajkumar Hirani's directorial calibre.
Amazing supporting star cast 
The film boasts of a huge star cast including Paresh Rawal, Manisha Koirala, Vicky Kaushal, Anushka Sharma, Boman Irani, Dia Mirza, Jim Sarbh, Sayaji Shinde and Sonam Kapoor.
Impressive dialogues 
In a scene from the trailer, Ranbir playing Sanjay is being interviewed by Anushka, a reporter. She asks him how many women except his wife has he been with, to which the reply is, "including prostitutes or without them?". All being said in front of his wife played by Dia. 
In another scene, Paresh Rawal who plays Sanju's father in the movie. "Mera beta koi guzra hua waqt nahi hai ki wapas nahi aa sakta."
Unique scenes
During an argument with Sonam Kapoor who is playing Sanju's love interest, she asks Sanju about her 'Mangalsutra'. to which, Ranbir replays in a unique way, he gives her a Mangalsutra which may give you surprising laughter.
Produced by Vinod Chopra Films and Rajkumar Hirani Films in association with Fox Star Studios. 'Sanju' is all set to be released on 29th June 2018.