Follow us on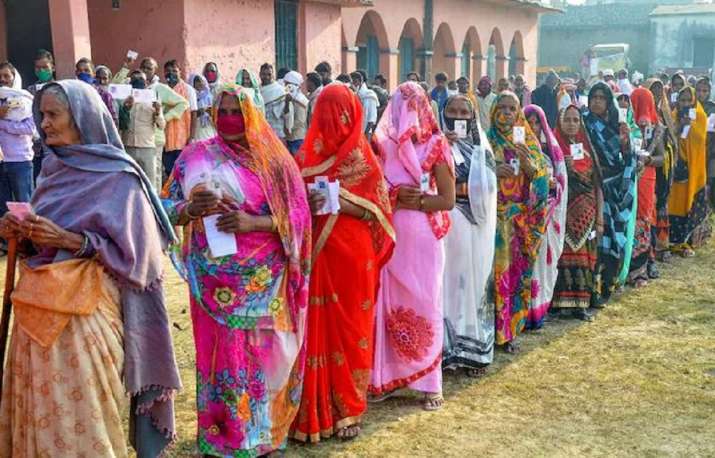 Voting for 476 posts of block panchayat chiefs began at 11 am in Uttar Pradesh on Saturday, the State Election Commission said. The voting continued till 3 pm and the counting of votes began right after that, it said. A total of 349 candidates for the block panchayat chief posts were elected unopposed on Friday, the last day for the withdrawal of nomination papers.
As counting of votes is still underway, BJP has registered victory in 635 seats (almost 85% of block panchayat chief seats) so far.   
UP Block Panchayat Chief Results
BJP wins from Mohanlalganj in Lucknow, Omprakash Shukla of Bjp defeats Navneet Singh of Samajwadi Party (SP).
BJP wins from Gosaiganj in Lucknow, Vinay Kumar of BJP defeats Anuj Yadav of SP.
Sadar Block total votes: 98
BJP - Sanjay Singh gets 66 votes
SP - Chhaya Devi gets 21 votes
Independent - Ram Pratap Singh gets 4 votes
Canceled votes - 7
Barhni: Total votes 91
BJP - Sunita Singh gets 85 votes
SP candidate gets 2 votes
Independent gets 2 votes
Canceled votes: 2
Chahniyan: Total votes 105
BJP - Arun Jaiswal gets 80 votes
SP - Achhe Lal Yadav gets 23 votes,
Invalid vote: 1
Sakaldiha: Total votes 130
BJP - Awadhesh Singh gets 117 votes
SP - Santosh Yadav gets 5 votes
Rejected votes: 4
Niyamatabad: Total votes 142
SP - Kamala Devi gets 100 votes
Apna Dal - Neelam gets 34
Invalid votes: 7
Meanwhile, 4 BJP candidates have been elected unopposed so far. They are Dhanapur - Ajay Singh, Naugarh - Prema Devi, Shahabganj - Geeta Devi and Chakia - Shambhu Nath Yadav.
BJP candidate wins in slip in Ghaziabad Muradnagar seat in case of tie.
BJP wins all four block major seats of Ghaziabad
BJP's Usha Singh gets 87 votes in Lucknow's Bakshi ke Talab, SP's Renu Yadav gets 13.
In Barabanki's Bindura block, SP's Ramu Gupta defeats BJP's Anoop Rawat by 2 votes, BJP candidate got 56 votes while SP got 58 votes.
Speaking on results so far, Chief Minister Yogi Adityanath said, "trends indicate Bharatiya Janata Party winning in Block Panchayat polls. We worked with the motive of 'Sabka vikas, sabka vishwas' in all districts."
The chief minister also congratulated party workers and thanked them for working honestly for the welfare of the people, development of villages. 
He also said that people's mandate is in the favour of the BJP. 
Earlier in a statement issued on Friday, State Election Commissioner Manoj Kumar had said 1,778 nomination papers were received for 825 posts of the block panchayat chief, of which 68 were cancelled and 187 withdrawn.
As a result, 1,710 candidates were in the fray for elections on Saturday, he had said.
As the State Election Commission announced that candidates on 349 posts have been elected unopposed, an office-bearer of the BJP claimed that 334 among the winning candidates belonged to the ruling party.
UP BJP chief Swatantra Dev Singh said after the formation of the party's government under the leadership of Chief Minister Yogi Adityanath, a state of development and good governance has been established by eradicating casteism and corruption.
"This is the reason that even in the three-tier panchayat elections, the BJP is continuously achieving victories, which is the stamp of people's approval on the policies of the BJP," he said in a statement.
Opposition parties, including the Samajwadi Party, the Bahujan Samaj Party and the Congress, have accused the ruling BJP of damaging democracy in the elections of kshetra panchayat chiefs and attacked it for allegedly showing "utter disrespect" to women during the election process.
They accused the government of misusing power and official machinery in the panchayat elections.
(With PTI inputs)