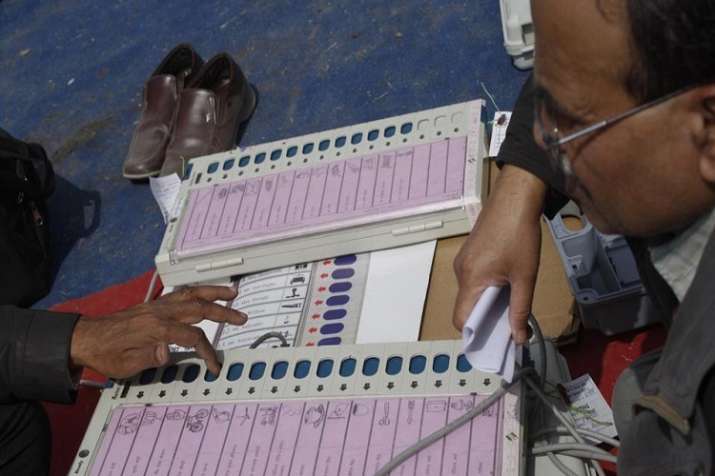 Palghar Lok Sabha bypolls counting live on May 31: The crucial Lok Sabha by-polls for the Palghar constituency in Maharashtra saw a moderate turnout on Monday, in midst of heat wave like conditions and several EVM glitches. The by-polls were necessitated after sitting MP Chintaman Vanaga died following a heart attack on January 30.
Polling began at 7 am and continued a little after 6 pm, as Election Commission requested poll booth officers to allow people standing in queues to cast their votes past the deadline. 
Several booths reported EVM and VVPAT machine glitches. Till 6 pm, the voter turnout was recorded at 46 per cent.
The counting will take place on May 31.
 As many as 4,119 security personnel has been deployed for the Palghar Lok Sabha by-election on Monday.
The BJP and the Shiv Sena, who are allies in the state and central governments, have refused to form any pre-poll alliance for the by-elections. Sena has fielded the late BJP MP's son Srinivas Chintaman Vanaga from the seat. According to reports, the Vanaga family is miffed with BJP's leadership, including Chief Minister Devendra Fadnavis, for ignoring them after the former MP's death.
Shrinivas is up against BJP's Gavit Rajendra Dhedya and Congress' Damodar Barku Shingada.
Earlier on Saturday, the Shiv Sena wrote to the Election Commission accusing the BJP of trying to bribe voters ahead of the bypolls for Palghar constituency.
ALSO READ: Bypolls to 4 Lok Sabha seats LIVE: Polling underway; BJP faces united opposition in UP's Kairana
In the letter to the Election Commission, Shiv Sena MLA Amit Ghoda alleged that distribution of cash to the voters to bribe them to vote for BJP candidate was going on.
It was "gross violation of election code of conduct" and therefore the BJP candidate Rajendra Gavit should be disqualified, the letter said. 
In reply, the BJP has alleged the Shiv Sena roped in some criminals to distribute money to voters ahead of the Palghar Lok Sabha bypoll scheduled on Monday, and said it would complain about it to the Election Commission. 
"The BJP is going to lodge a complaint with the Election Commission that the Sena has brought 1,000 people from neighbouring Thane, Mumbai and Kalyan who are staying illegally in Palghar even after the campaigning is over, and they are distributing money to voters," BJP leader Ravindra Chavan told PTI.