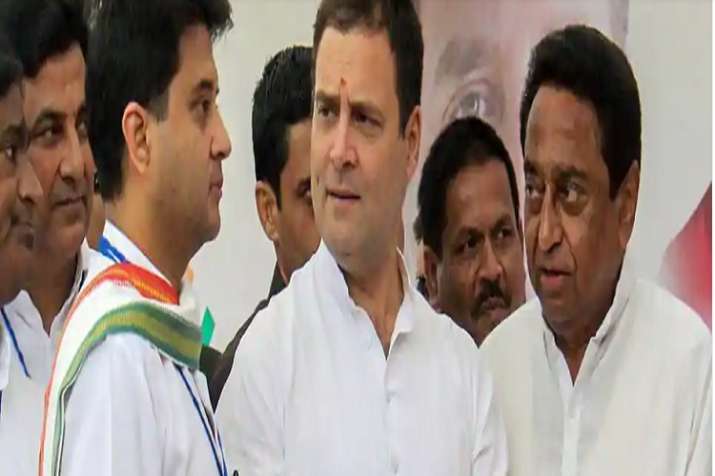 Refuting the Bharatiya Janata Party's (BJP) charge that the Congress was "headless" in the state, Congress president Rahul Gandhi on Tuesday said his party has not declared its chief ministerial candidate in Madhya Pradesh as part of its poll strategy.
"Under our strategy we have not declared the chief ministerial candidate in Rajasthan or Madhya Pradesh," he told reporters during an informal chat in Indore.
Gandhi, who was on a two-day campaign of Madhya Pradesh, was asked why his party had not projected a face against BJP Chief Minister Shivraj Singh Chouhan, who was seeking a fourth term in office.
"Both our leaders have qualities of their own. Kamal Nath, the MP Congress president, has vast political experience and Jyotiraditya Scindia, the Congress chief whip in the Lok Sabha, is young and energetic," said Gandhi, with Nath and Scindia by his side.
They were among the most prominent Congress leaders in Madhya Pradesh, where the party was out of power since the last 15 years.
Except in extraordinary situation, the Congress would not give poll tickets to leaders joining it from other parties, he said.
"Besides, we have, by and large, decided not to renominate party candidates who had lost assembly polls three times of more," Gandhi said.
In the run up to the polls, the BJP was mocking the Congress, saying because of factionalism in its state unit the party was unable to project its chief ministerial candidate.
On October 17, Prime Minister Narendra Modi had said the Congress had three chief ministerial candidates with each pulling the others down and that it could not think of the state's development.
In a video interaction from Delhi with party workers, Modi had claimed more than a dozen Congress leaders were also nursing chief ministerial ambitions in Madhya Pradesh.
( With inputs from PTI )