Follow us on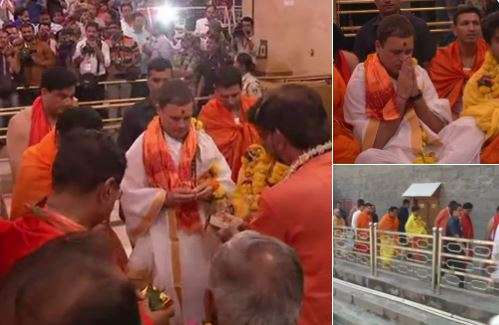 Congress president Rahul Gandhi on Monday morning performed a 'puja' at the famous 'jyotirlinga' in Ujjain before embarking on a two-day tour of the BJP-dominated Malwa-Nimar region.
Interestingly, a few months before, BJP president Amit Shah had visited the Mahakaleshwar temple in poll-bound Madhya Pradesh. Shah had visited the abode of Lord Shiva on July 14 this year before flagging off the "Jan Ashirwad Yatra" of Chief Minister Shivraj Singh Chouhan. The BJP has been accusing Gandhi of playing the "soft Hindutva card" to attract the voters in poll-bound states.
Later in the day, while addressing a rally in Ujjain, Congress president once again attacked the Modi government over the ouster of CBI director.
"Someone told me that corruption took place in Kumbh Mela and there should be a CBI inquiry. How will CBI conduct inquiry when CBI director was removed at 2 am in the night?" he said and added, "CBI Director was going to start inquiry in Rafale deal. In fear and panic, PM removed CBI director at 2 am because he fears that the day inquiry starts in Rafale deal, nation will get to know that the government is hiding the facts."
"Rs 400 crore was spent on cleaning Shipra river but look at this water. If a minister drinks this water, he will fall unconscious," he further said while attacking the BJP government.
While touching the farmers' issue, he said, "I don't make fake promises. Within 10 days of the elections, Chief Minister of Congress party will waive off the loans of farmers in Madhya Pradesh. And if the CM will make excuses, another Chief Minister of Congress will waive the loans." 
During his two-day tour beginning Monday, Gandhi would address rallies in Jhabua, Indore, Dhar, Khargone and Mhow and also take part in a road show in Indore.
In Madhya Pradesh, where elections are scheduled to be held on November 28, the Congress has been struggling to oust the ruling Bhartiya Janata Party (BJP) from power for the last 15 years.
"During his visit to the Mahakaleshwar temple (one of the 12 'jyotirlingas' of Lord Shiva), Rahul will worship the Lord Mahakal like a common devotee," Congress secretary Sanjay Kapoor told PTI here Sunday.
According to a programme released by Congress, Gandhi will address public meetings at Ujjain and Jhabua, respectively, after visiting the Mahakal temple. He is also scheduled to participate in a road show to be organised by the Congress in Indore on Monday evening, and will address a public meeting at Rajwada.
On Tuesday, Gandhi will interact with news editors and the business community in two separate programmes at Indore, the commercial capital of Madhya Pradesh. He will later address public meetings at Dhar and Khargone.
On Tuesday evening, the Congress chief would address a public meeting at Mhow after offering tribute at the memorial of Dalit icon B R Ambedkar's birthplace. Mhow, about 23 kms from Indore, is the birthplace of Ambedkar.
Earlier, the Congress had proclaimed Gandhi as a "Shiv-bhakt" (a devotee of Lord Shiva) ahead of the assembly elections held in Gujarat last year.
Gandhi began canvassing in Madhya Pradesh last month by offering prayers at the famous Kamta Nath temple in Satna district's Chitrakoot town.
Meanwhile, the BJP Sunday ridiculed Gandhi for visiting temples in poll-bound states. Apart from Madhya Pradesh, elections are also scheduled to be held in Chhattisgarh, Rajasthan--both currently ruled by the BJP, and the north-eastern state of Mizoram, where Congress is in power, in the next two months.
BJP national vice-president Prabhat Jha said, "Congress has been making false allegations against BJP about playing religion-based politics. Now, Rahul should answer why he is running to temples ahead of elections?
"The Congress president should also clarify why he and his mother Sonia Gandhi did not visit the Mahakal temple during previous visits," he said.
Jha alleged that Gandhi was trying to mislead people by pretending himself as a religions person for the sake of electoral gains. When asked about BJP's criticism, Kapoor said, "Rahul is visiting the Mahakal temple as a devotee of Lord Shiva..in pure sense of devotion. Do the BJP leaders solely reserve the right to worship Lord Shiva? Lord Shiva is for all".
Kapoor clarified that Gandhi's likely visit to Janapav near Mhow, which is the birthplace of Lord Parshuram, could not materialise due to the busy schedule of Gandhi. 
WATCH VIDEO: 
(With inputs from agencies)