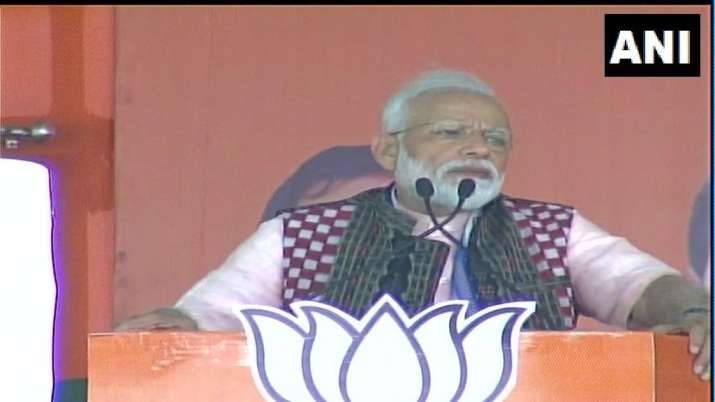 Prime Minister Narendra Modi on Tuesday accused the Naveen Patnaik government of pocketing the money the Centre had sent for the development of the state.
Modi also accused the Odisha government of creating obstacles in providing benefits to the farmers in the state.
"You have trusted them (the BJD) blindly for 20 years. Now the land of Odisha has made up its mind for a change," he said.
Addressing a rally in Sambalpur in Odisha, Prime Minister Modi said, "In our country, the government has no lack of money. If something is lacking, it is lack of its proper use. Earlier governments never paid attention to the amount of money being sent, whether they reached you completely or not. This corruption was going on for so many years of independence but there was no one to prevent it."
"Now the Modi government has created a system in which if the government is sending 100 paise, then that entire amount should be spent on poor people of the country," he added.
Praising the enthusiasm of the crowd for showing up at the venue despite the heat, he said, "In such hot weather, such a huge crowd, such enthusiasm; pictures of these rallies are giving sleepless nights to others. People are supporting us because they want a strong government."
Stepping up attack against Odisha government, the prime minister said it is the result of the earlier corrupt and weak governments that the poor people of Odisha remained poor after so many years of independence.
"Discrimination on the basis of region and caste, this is the achievement of Congress and BJD," he added.
"The central government procure rice at Rs 19-30/kg and send it to Odisha. Odisha government adds only Rs 2/kg to it. However, they claim that they provide rice at subsidised rate to the people of Odisha. It is an utter lie," the prime minister said.
He said that the BJP government at the Centre had amended decade-old mining law and ensured that a part of the fund from the resources extracted is utilized for the development of local infrastructure.
The Prime Minister also ensured implementation of Ayushmaan Bharat scheme, adding, "After the implementation of this scheme, the poor will be able to take free medical treatment up to Rs 5 lakh across the country."