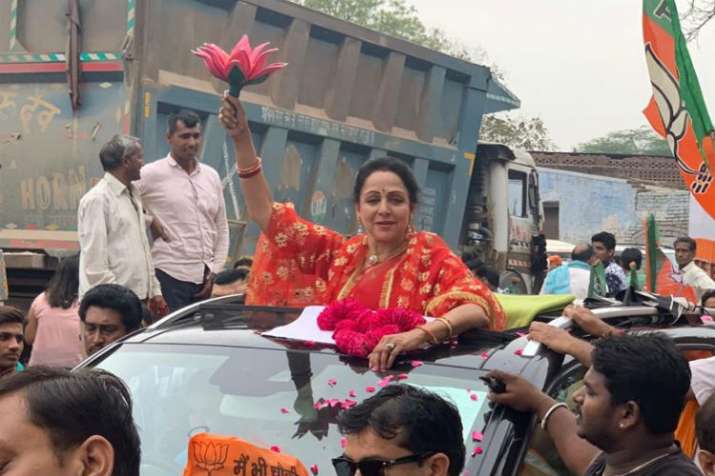 As the second phase of polling of Lok Sabha election 2019 began on Thursday at Mathura, sitting MP and Bharatiya Janata Party (BJP) candidate Hema Malini said she was confident about her victory.
Although she won by a margin of over 3 lakh votes in 2014 Lok Sabha election, it is not going to be a cakewalk for her this time. We tell you how.
The Lok Sabha constituency of Mathura, known for holding the majority of Jat voters with 4.5 lakh voters, is said to have more RLD supporters than any other party.
The BJP, however, chose to contest the yesteryear "Dreamgirl" over Mathura MLA and minister in UP chief minister Yogi Adityanath's government, Shrikant Sharma, who was a strong contender for the seat.
In the 2014 Lok Sabha election, Hema Malini defeated Jayant Chaudhary, grandson of Jat leader and former prime minister Charan Singh and bagged more than the combined votes of the Rashtriya Lok Dal (RLD), BSP and the SP.
This time, RLD candidate Kunwar Narendra Singh is taking on her on a ticket by BSP-SP-RLD mahagathbandhan -- and she is not even taking it lightly.
Mainly because, the caste arithmetic comes into play.
Hema Malini's recent election campaigns have shown how well she has understood the caste arithmetic of Mathura.
The renowned actor and dancer, who filed her nomination on March 25, began her election campaign in Mathura on Ambedkar Jayanti by paying tribute to Babasaheb Ambedkar.
Hema Malini's husband and veteran actor Dharmendra, who didn't campaign in 2014, has also jumped onto the ground to support his wife and woo the people of Mathura. He also touted her a "Jat bahu" -- as the actor himself is a Jat from Punjab.
Apart from Jats, 2.15 lakh votes belong to the Thakurs and Brahmins community each and Muslims hold 1.5 lakh votes.
Hema Malini was also seen at the wheat fields, and clicked pictures with the farmers. Dharmendra, during the campaign, also said he belonged to a family of farmers and that he feels connected with them.
Another reason of Hema Malini's crisp campaigning is Congress candidate Mahesh Pathak -- who is also said to have the support of a good part of Brahmin voters.
A 76-year-old Hindu saint, Fakkar Baba, is also contesting the election as an independent candidate. He has contested for 16 elections since 1976 and lost all of them. 
Fakkar baba, despite contesting against Hema Malini, says he continues to be a big fan of hers.
But will the fan base convert to votes for the "Dream Girl"? Only time will tell.