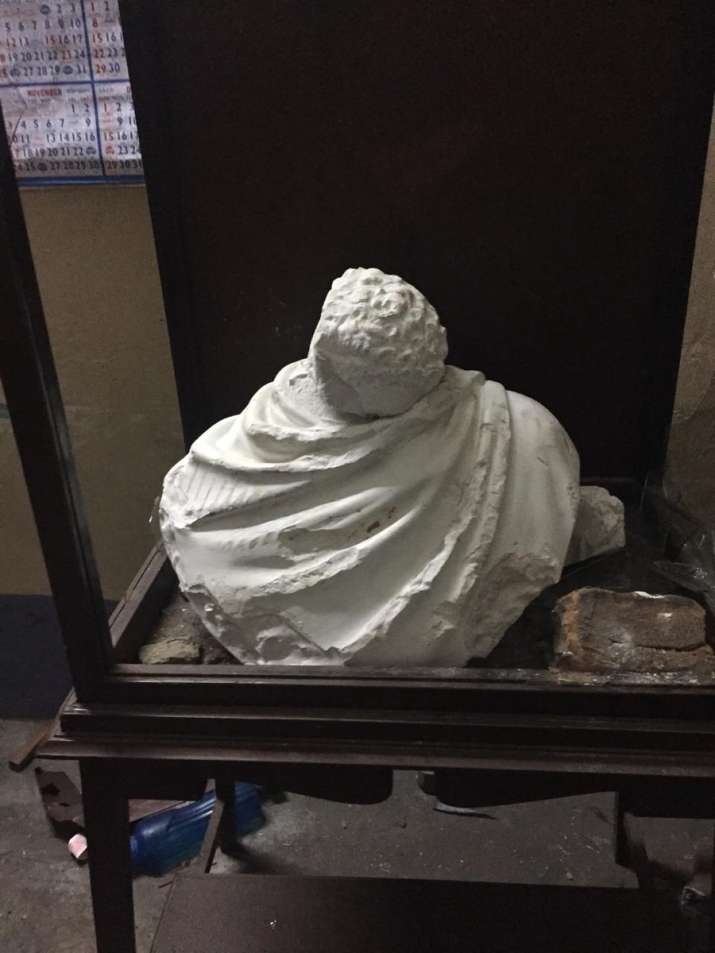 Bharatiya Janata Party (BJP) chief Amit Shah has claimed the Trinamool Congress workers vandalised Vidyasagar bust themselves -- in response to West Bengal Chief Minister Mamata Banerjee's allegation that supporters of the saffron party ransacked the statue.
Amit Shah, while addressing mediapersons, on Wednesday said: "Their [TMC's] workers vandalised the [Vidyasagar] bust themselves. This is nothing but a desperate measure adopted by the TMC to gain sympathy. Mamata [Banerjee] didi knows she's losing the election."
Amit Shah, in addition, showed three photographs of the said clash in his rally, pointing to the fact that the gates of the college were closed.
"If the gates were closed, how can anybody enter [the college]? Who had the keys to the entrance? Only TMC. They must have only vandalised the bust," he added.
A bust of the 19th-century social reformer was vandalised during clashes at party chief Amit Shah's rally in Kolkata on Tuesday.
Ishwarchandra Vidyasagar had been a key figure in the Bengal renaissance. His statue, at a college named after him, was allegedly ransacked in the clashes that ensued between the BJP and TMC workers.
In response to the vandalism, Mamata Banerjee had said, "I do not have words to condemn the incident. I am myself ashamed... that, as people of Bengal, we cannot respect Ishwarchandra Vidyasagar because of these BJP goons. These leaders will be leaders of the nation ? Those who cannot respect icons?"
Mamata Banerjee added she had never seen such political violence in Kolkata. She said an inquiry would be initiated.
To this end, Amit Shah told reporters: "Mamata Banerjee claims BJP did it. I want to tell her we are fighting in every state in the nation unlike them. They are fighting on 42 seats in West Bengal. Violence didn't take place in six phases of the [ongoing Lok Sabha] election anywhere but West Bengal. This proves that TMC is responsible for it."
The BJP chief also derided the Election Commission of India (ECI), saying its standards of holding key polls in the nation are different from those of West Bengal's.
"I want to request the election commission to look into the violence that keeps happening only in West Bengal," he said, adding, "the TMC workers were continuously hurling stones. Had it not been for the CRPF men, I would not have returned safe from the rally."
Earlier, senior TMC leader Derek O'Brien had posted proofs of the purported violence in a series of tweets.
#Video #1 Evidence of what BJP goons did at Amit Shah's road show in #Kolkata #Vidyasagar pic.twitter.com/TrQnF8KYdH

— Derek O'Brien | ডেরেক ও'ব্রায়েন (@derekobrienmp) May 15, 2019
For those who want video footage#Vidyasagar statue demolition by BJP's uncultured supporters
See this#bengal #kolkata #may19 pic.twitter.com/qvrHQjzN2n

— Kumar Journalist (@kumarsroy) May 14, 2019
In a bid to protest against the alleged vandalism, Mamata Banerjee and other leaders of her party, including Derek O'Brien, had earlier in th day changed their respective profile pictures on Twitter to Ishwarchandra Vidyasagar's image.
#NewProfilePic pic.twitter.com/Wihhx12llZ

— Derek O'Brien | ডেরেক ও'ব্রায়েন (@derekobrienmp) May 14, 2019
"It is a very unfortunate incident and an entire college was vandalised. A bust of Iswarchandra Vidyasagar was broken. I have kept broken parts of the bust where the original statue was there. I have never seen such political violence in Kolkata," Mamata Banerjee said, after visiting the college. 
She accused the BJP of bringing "miscreants" from other states like Bihar, Rajasthan and spending crores of rupees to put up cut-outs for the road show.
"Does Amit Shah have any idea about the University of Calcutta that is our pride? Who is he? Can't they stage protest demonstrations against him? Many people protest against me by putting up posters. I do not mind. In a democratic framework why have the BJP's goons attacked Vidyasagar College?," Banerjee asked. 
She also accused the BJP of circulating a "fake" press statement alleging the Trinamool organised the violence. 
Kolkata Police Commissioner Rajesh Kumar said, "No one involved in the attacks would be spared. More than 100 persons have been arrested. We will examine the incidents."
After insulting Rabindranath Thakur, then using the term Kangal, today they did not even spare Vidyasagar.

WATCH pic.twitter.com/5lQlbgX7kl

— Derek O'Brien | ডেরেক ও'ব্রায়েন (@derekobrienmp) May 14, 2019
The incident evoked reaction from CPI(M) general secretary Sitaram Yechury too.
He tweeted, "BJP-RSS think nothing of when they vandalise the historic Vidyasagar College, break Vidyasagar statue. This is their advocacy of India's civilisational heritage? Attacking knowledge is central to getting their poisonous project going. Bengal will reject the destruction they offer."
Vidyasagar was conferred the title of the ocean of knowledge. A leading figure in the Bengal renaissance, he stood for progress, pathbreaking reform and enlightenment. It is very clear why the Sangh parivar would seek destruction of his ideas. https://t.co/3f3dXJGaY4

— Sitaram Yechury (@SitaramYechury) May 14, 2019