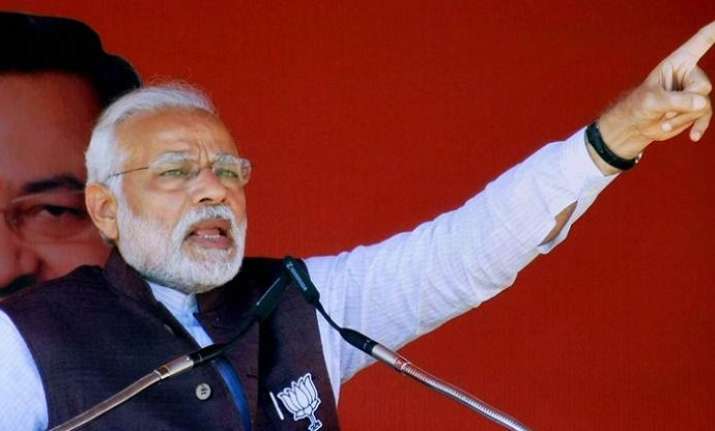 Prime Minister Narendra Modi kick started BJP's campaign in West Bengal on Saturday for the coming Lok Sabha election with rally in the border district of North 24 Parganas Thakurnagar. He also addressed a rally in the industrial town of Durgapur. 
PM Modi also inaugurated several projects in the state giving an impetus to the BJP's plans for the crucial general elections which is likely to be held in April, May.
The PM launched a nearly 300-km-long electrified section of the railways in Durgapur. He also inaugurated a 20-km-long Hijli-Narayangarh third line.
PM Modi dedicated to the nation the railway electrification of the 294-km-long Andal-Sainthia-Pakur-Malda and the Khana-Sainthia sections. The electrification of this section will enable ease of transportation of coal, stone chips and ballast to North and Northeast India in a seamless manner, a statement from PM's office said.
PM Modi in Bengal Updates:
2:59 pm: Congress brings loan waiver after every 10 year: PM Modi
2:55 pm: No govt in the history of independent India has brought such a policy for the farmers: PM
2:53 pm: Schemes announced in the budget are expansion of our plans of four years: PM
2:48 pm: We have fulfilled the demands of youth and midd-class by changing tax structure: PM
2:47 pm: "I used to think that Didi who has herself suffered a lot during Left regime will not walk on the same path, but I was surprised that she adopted the same tactics. You can take this from me in writing 'Inka jaana tae hai," says PM Modi.
2:46 pm: State govt is not supporting the centre in development of Bengal: PM
2:44 pm: Bengal's govt is not concerned about development of the state: PM
2:43 pm: Bengal will play a significant role in country's development: PM Modi.
2:42 pm: People will remove Mamata Banerjee govt in Bengal: PM Modi
2:40 pm: People's love for BJP is giving Didi sleepless nights: PM Modi
2:28 pm: PM Modi reaches Durgapur. He will shortly address the rally.
12:43 pm: Schemes announced in Budget set to benefit 12 crore farmers: PM Modi
12:41 pm: Previous governments did not focus on villages: PM Modi 
12:38 pm: We have been trying to change the condition of Bengal for 4 years: PM Modi
12:30 pm: PM Modi addresses Public Meeting at Thakurnagar
12:25 pm: PM arrives at rally in Thakurnagar.
12:02 pm:  PM will be addressing a public meeting shortly
12:00 pm: Prime Minister Narendra Modi's chopper arrives in Thakurnagar.
Why BJP picked Thakurnagar, Durgapur as rally venues
The venues of both the rallies have political significance. Thakurnagar, which is one of the venues, is the hub of the sizeable Matua community, who originally hail from erstwhile East Pakistan and began migrating to West Bengal in the beginning of the 1950s mostly due to religious persecution. The rally venue is near the house of Matua matriarch Binapani Debi.
Matuas with an estimated population of 30 lakh in West Bengal have influence in at least five Lok Sabha seats in North and South 24 Parganas districts.
Prime Minister Shri @narendramodi will address two public meetings in Thakurnagar and Durgapur, West Bengal on February 2, 2019. Watch LIVE at https://t.co/vpP0MInUi4 and https://t.co/jtwD1z6SKE pic.twitter.com/AEwPzvfFfX

— BJP (@BJP4India) February 1, 2019
The BJP state unit is hopeful that Modi will speak on the Citizenship (Ammendment) Bill at Thakurnagar in the circumstances, party sources said adding that the BJP-aligned faction of All India Matua Mahasangha is organising the rally.
The Durgapur rally of the prime minister will be part of BJP's 'Ganatantra Bachao' (save democracry) programme in the state. The industrial hub of Durgapur is near the Asansol Lok Sabha constituency held by union minister Babul Supriyo.
WATCH: PM Modi's posters vandalised ahead of his rallies in West Bengal
The rallies are being held at a time when the ruling Trinamool Congress in West Bengal has upped the ante against the BJP-headed government at the Centre and has given the call to oust the Modi government in the next General Election.
The TMC had on January 19 organised a mega opposition rally which was attended by leaders of 24 parties from across the country, including the Congress.
(With inputs from PTI)