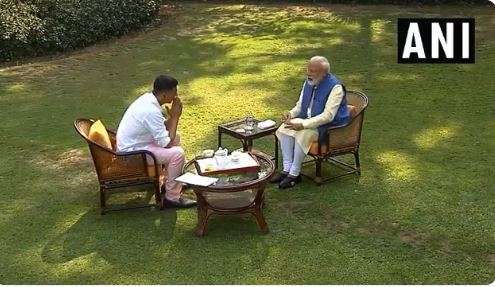 Prime Minister Narendra Modi on Wednesday made a startling revelation in a 'non-political interaction' with Bollywood actor Akshay Kumar. Startling, because it is, in every sense of the word, STARTLING.
PM Modi said West Bengal Chief Minister and his arch-rival Mamata Banerjee share a decent relationship off-the-political-stage.
Modi said Mamata 'didi' sends him personally-selected kurtas and Bengali sweets every year. Wow! 
"Even today Mamata didi herself selects one-two kurtas for me. She sends one-two kurtas every year," PM Modi said. 
The prime minister also revealed that Bangladesh Prime Minister Sheikh Hasina started the trend of exchanging Bengali sweets. "When Mamata didi came to know about it, she too started sending me Bengali sweets," he added.
Wow! Again!
We "wow", because these are the same two leaders who have been exchanging barbs over the alleged corruption scams in each other's regimes -- in the run up to May 23 that stands to decide the fate of Modi's Bharatiya Janata Party (BJP) and Mamata's Trinamool Congress (TMC).
Mamata Banerjee has played a crucial role in uniting the whole Opposition (read: 22 parties) against the Modi-led Central government. She even organised and emceed a grand mahagathbandhan rally at Kolkata parade ground in January, 2019.
On April 4, Mamata described PM Modi as "Hitler's uncle" and a day before she termed him as "expiry babu".
PM Modi is no less. He has given Mamata the title of 'speedbreaker didi', because, he says, development came to a screeching halt when she became the chief minister of West Bengal.
"Speedbreaker didi has lost her sleep after the reports that came in after the first and second phase of polling in the state," PM Modi said in another rally in West Bengal.
Most recently, PM Modi said he felt "pity" for Mamata Banerjee as the prime minister's post cannot be bought by money looted in Saradha and Narada scams.
Modi and Azad!
Not only Mamata Banerjee, PM Modi also revealed that he shares a warm relationship with other opposition leaders too.
PM Modi said when he was the chief minister of Gujarat, he had a friendly chat with Congress leader Ghulam Nabi Azad outside the Parliament. "It had left the media wondering," he said.
Watch video-