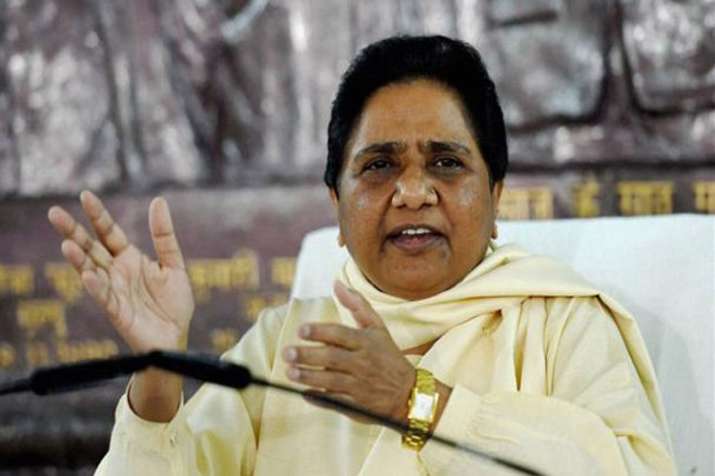 Lok Sabha elections 2019: The Bahujan Samaj Party (BSP) supremo Mayawati on Sunday attacked the Bharatiya Janata Party (BJP) government and said the way communal forces are being given encouragement shows that the BJP may be planning for early Lok Sabha elections along with Assembly polls of Madhya Pradesh, Chhattisgarh and Rajasthan.
"The background for the same has already been prepared by toppling the PDP government in the state of Jammu & Kashmir," BSP supremo said in a press release released on Sunday.
Catch all the latest news about Indian politics HERE
Mayawati also said, "The saffron party is quite disappointed after, despite all efforts, it failed to form a government in Karnataka".
"Issues like unemployment, inflation and poverty are totally ignored by the BJP," alleged BSP supremo.
She also termed the speech of PM Modi in Varanasi and Azamgarh as misleading.
Mayawati on Saturday also attacked the BJP government and said the saffron party has started inaugurating projects in UP only now when general elections are near.
Catch all the latest news about Lok Sabha elections 2019 HERE
"BJP govt has started inaugurating projects in UP only now when general elections are near. PM has laid the foundation stone of Purvanchal Expressway today. Had they done this in 2014 itself, then instead of laying foundation stone today he would've been inaugurating it," Mayawati said, reported news agency ANI.
Prime Minister Narendra Modi is in UP on Saturday and on Sunday.
On Saturday, he visited Varanasi and Azamgarh districts of the state. In Azamgarh, he laid the foundation stone of the 340 km long Poorvanchal Expressway. This road will connect several important towns of eastern Uttar Pradesh, including Barabanki, Amethi, Sultanpur, Faizabad, Ambedkar Nagar, Azamgarh, Mau and Ghazipur with the state capital Lucknow.
Among the projects which PM dedicated in Varanasi were the Varanasi City Gas Distribution Project and the Varanasi-Ballia EMU train.
On Sunday, PM visited Mirzapur, where he dedicated the Bansagar Canal Project to the nation.
YOU MAY ALSO LIKE TO READ
OPINION: PM Narendra Modi Vs the rest
Watch: PM Modi's speech in UP hints at early general polls: Mayawati