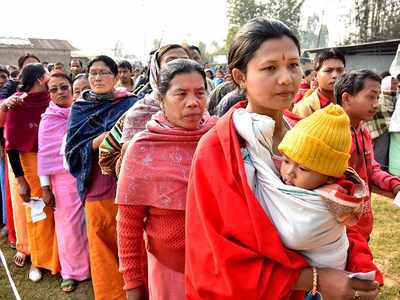 India is heading for its 17 Lok Sabha Elections in 2019, It seems to be a tough competition for political parties and leaders in the general elections 2019 which are set to be held in 7 phases starting from April 11 to May 19. Over 850 million voters are likely to vote this year and decide the fate of the country for the next five years. Lok Sabha Polls which takes place after every five years is considered as the biggest elections in the world. Today our focus is on elections in Manipur and how things are shaping up in the North East. 
Despite having two Lok Sabha Seats, Manipur is anticipated to face a three-way electoral battle between BJP, Congress and other political parties. Voting for the two seats of Manipur will be held in two phases - April 11 and 18, as announced by the Election Commission of India (ECI). 
Though Congress had won both seats in general elections 2014, It seems this year could be a slightly different for the party as the dominance of regional parties such as, Secular Democratic Front (SDF), National People's Party (NPP), Manipur People's Convention (MPC) and rest others cannot be ignored.
After facing many challenges, BJP somehow managed to form the government in Manipur in spite of winning 21 seats in the 60 member assembly in March 2017. BJP with the support of four MLAs took over the state government from the Naga People's Front and NPP besides the lone Lok Janshakti Party (LJP) legislator Karam Shyam.
Here's all you need to know about the Lok Sabha elections 2019 in Manipur:
Date of poll: April 11 & April 18
Date of counting: May 23
Ruling party in the state: BJP (in coalition with NPP-NPF-LJP)
Total no. of Lok Sabha seats in the state: 02
Lok Sabha seats distribution: Congress-2
Number of voters in the state: 1,930,912 (as per 2019)
Total no. of polling stations in the state: 2,861 (out of which 603 are in the urban and 2,258 in the rural areas)
Voter turnout (in 2014): 77.5%
Number of assembly seats: 60
Partywise break-up of assembly seats: BJP (21), CONG (28), IND (1), NPF (4), NPP (4), LJP (1), TMC (1)
Important leaders across parties: BJP- N Biren Singh, K Bhabananda, Congress- O Ibobi Singh, T. Meinya, PCC- Okram Joy Singh, AAP- Dr Ibomcha Singh, CPI- Moirangthem Nara and others.
ALSO READ: Manipur: Lok Sabha elections in two phases, check details here