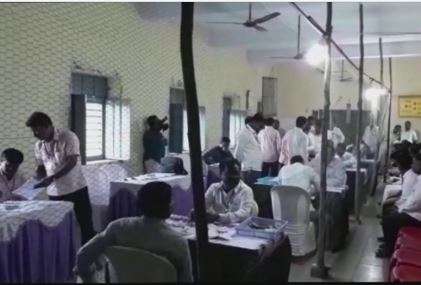 Karnataka Urban Local Bodies election results: Karnataka's ruling coalition partner the Congress won majority of the seats across 10 of 22 districts during vote count for 105 Urban Local Bodies (ULBs) on Monday, the State Election Commission (SEC) said.
In the civic body polls held on August 31, the Congress has won 982 seats out of the total 2,662 seats, with a majority in 10 districts including Ballari, Bidar, Gadag, Mysuru, Uttara Kannada and Raichur, the SEC said in its website.
On the other hand, the Congress' leading ally in the state government, Janata Dal-Secular (JD-S), trailed behind winning 375 seats and a majority in its strongholds of Hassan, Mandya and Tumakuru districts.
The opposition Bharatiya Janata Party (BJP) won 929 seats, with majority in seven districts including the coastal districts of Udupi and Dakshina Kannada.
Independents won 329 seats across the 22 districts, while other fringe parties and regional outfits won another 34.
Karnataka Urban Local Bodies election results LIVE UPDATES:
04:30 pm: We have succeeded. JDS and Congress will go together to keep BJP at a distance: Former PM HD Deve Gowda 
03:00 pm: Eight people injured in an acid attack on the victory procession of winning Congress candidate Inayatullah Khan in Tumkur
01:10 pm Congress is not lagging behind. Neck-to-neck fight is there & if you combine secular votes, they are the most. These elections are based on minor issues & local candidates & these results don't hold much significance: Mallikarjun Kharge on Karnataka urban local body polls results
12:12 pm Congress wins 846, BJP wins 788, JD(S) wins 307 and independent candidates win 277 seats
12:10 pm Results declared on 2267 seats out of total 2709 seats
12:00 pm
#WATCH: Veerappa Siragannavar, BJP candidate from ward No. 19 of Bagalkote municipal council, celebrates his victory in the urban local body polls by removing his shirt. #Karnataka pic.twitter.com/hUl7PnCG6W

— ANI (@ANI) September 3, 2018
10:20 am Congress wins 560, BJP wins 499, JD(S) wins 178, and independent candidates win 150 seats
10:20 am Results declared on 1412 out of total 2709 seats
08:10 am Counting begins for 102 urban local bodies polls that took place on August 31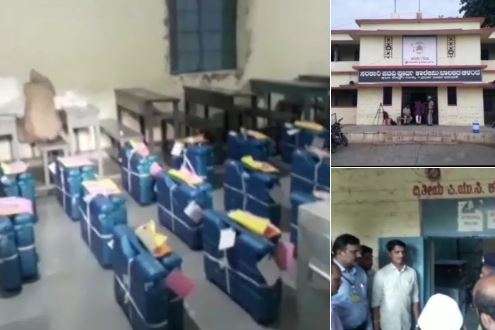 To keep the opposition Bharatiya Janata Party (BJP) out of power, the ruling Janata Dal-Secular (JD-S) and the Congress would extend their coalition alliance to the urban local bodies elections across Karnataka, said a JD-S official.
Catch all the latest news about Lok Sabha elections 2019 HERE
"In the event of either party not getting majority on its own in the ULB elections, we will have post-poll alliance to rule the local bodies as we did to form the coalition government in the state after the May 12 assembly election threw a hung House with a split verdict," the official told IANS on Saturday.
Polling was held in 2709 civic wards and in all 8,340 candidates are trying their luck. 
Out of 8,340 candidates, 2,306 are from the Congress, 2,203 are from the BJP and 1,397 are from the JD-S. 
The last urban local bodies elections were held in 2013. The Congress had won the maximum number of seats-1,960.
It is pertinent to mention here that Congress and JD-S are also, reportedly, planning to form an alliance before the Lok Sabha elections 2019.
(With inputs from agencies)