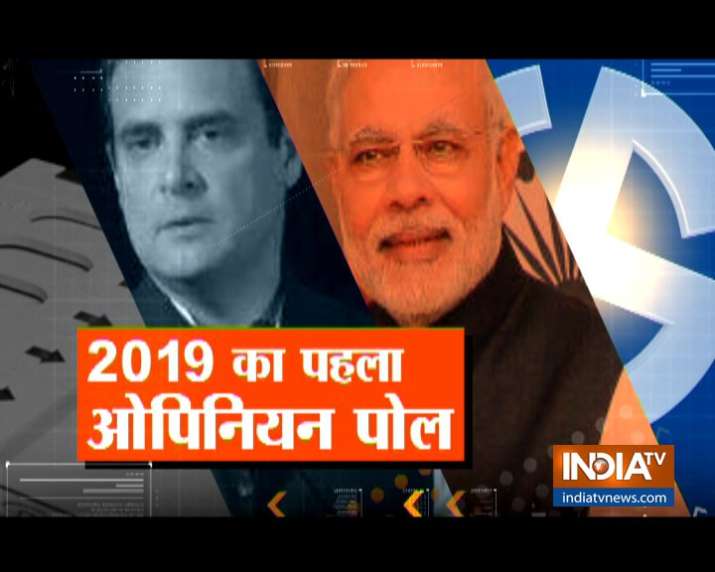 India TV with CNX conducted an opinion poll to gauge the mood of people in three states Bihar, Maharashtra, Jharkhand, Goa and Uttar Pradesh ahead of Lok Sabha elections 2019. According to the IndiaTV-CNX polls, NDA is likely to win in four states in Bihar, Maharashtra, Jharkhand and Uttar Pradesh while in Goa it is likely to split its fortunes with the Congress.
HERE ARE THE HIGHLIGHTS
# Vote share of each political parties- BJP-37%, BSP-10%, SP-23%, Congress-10% and Other Parties 11% in Uttar Pradesh.
# BJP may win 40 seats, BSP 15, SP 20, Congress 2 and Other Parties 3 if elections are held today in UP
# BJP, Congress may win one seat each in Goa if elections held today
# If BJP and Shiv Sena fight elections separately, then we will win at least 38 seats. Our numbers will be much higher, says NCP leader Nawab Malik
# BJP vote share may stand at 28%, Congress 19%, Shiv Sena 18%, NCP 18%, Others 17% if elections are held today in Maharashtra
# If elections are held today in Maharashtra, BJP may get 22 seats, Congress 9, Shiv Sena 8, NCP 9
# BJP may win 7 seats in Jharkhand, JMM 4, Congress 2 and JVM 1
# BJP will perform very well in Jharkhand, says Shahnawaz Hussain
# If elections are in held in Bihar today, BJP may get 22% voteshare, RJD 25%, JDU 20%, Congress 8%, Others 25%
# On an all, NDA is expected to get 27 seats, Mahagathbandhan 13 if elections are held now
# According to India TV CNX Opinion Poll 2019, BJP is predicted to get 13 seats in Bihar, RJD 10, JDU 11, Congress 2, Others 4 if elections are held now