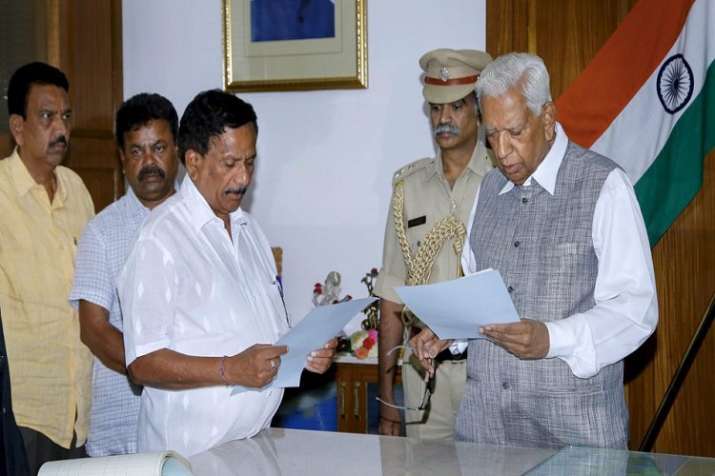 Karnataka Governor Vajubhai Vala has appointed BJP legislator KG Bopaiah as Karnataka Assembly's pro-tem speaker. The 62-year-old Bopaiah is a three-time legislator from Virajpet seat in Kodagu region, 260 km from Bengaluru. He was the speaker during the Bharatiya Janata Party rule in the state from 2008-13.
Bopaiah will preside over the floor test at 4 p.m. on Saturday to ascertain whether newly-appointed Chief Minister BS Yeddyurappa enjoys a majority support in the assembly.
However, the Congress party had contended that Bopaiah is not the senior-most member in the newly-elected House and as per the parliamentary convention, it is only the senior-most member in terms of the number of times he has been elected to the Assembly who can be a pro-tem Speaker.
On Saturday, the Supreme Court disposed off an application by the Congress and the JD-S questioning the appointment Bopaiah as the pro tem speaker in the assembly.
ALSO READ: Karnataka Floor Test LIVE: BSY to prove majority at 4 pm; two Cong MLAs absent from Vidhan Soudha
Who is a pro tem speaker? What is his role?
A pro-tem speaker is a temporary speaker who has job to oversee a floor test in the Assembly. The pro-tem speaker administers oath to all newly-elected legislators ahead of the floor test. According to the convention, the senior-most member of the House is appointed as the pro-tem speaker. It is the pro-tem who decides whether the trust vote should be conducted through a voice vote or ballot.
What is composite floor test?
A composite floor test is conducted in a scenario where more than one party stake claim to form the government in the state and the majority is not clear. In the floor test, the newly-formed government is tasked to prove their majority in the House. The majority is calculated on the basis of votes of the MLAs present in the House. There can be two types of voting - voice or ballot.
In the May 12 elections held in 222 constituencies across Karnataka, 104 seats were won by the BJP, Congress (78), JD-S (37), one by independent, one by Bahujan Samaj Party and one by regional Karnataka Pragnyavantha Janatha Party. Though the JD-S won 37 seats, its effective strength is 36 since its state President HD Kumaraswamy won from Channapatna and Ramanagara segments but has only one vote.